Congratulations on your new business idea! Now it's time for the fun part. Establishing and designing your brand elements. I love this part! I've been working with brands and professionals for the better part of a decade and I've had the privilege to take part in both the brand development stage to the brand positioning and public relations stage. Having a well-rounded background of experiences has helped me to better position and grow our clients.
Step 1: Develop a Brand Statement. This can be broken down into 3 basic steps: who are you? what do you do? who is your audience? Develop your mission statement, who are you, and your tagline, what do you do. Get to know your target audience. Figure out who you want to reach and sell to. Who is your ideal clientele and customer vs. who are your followers?
Step 2: Design your brand. Once you distinguish who your brand is, it's time to visually represent your brand. Some businesses may choose to bring on a graphic designer at this point to help them with these steps because they are trained in both design and color psychology. During the design stage, you'll work with your designer in developing a logo that best represents your brand, a color palette, and typography – brand fonts.
Step 3: Find Your Brand Voice. Now's the time to start connecting with your target audience and develop a strategy of what you want to say and how you want to say it. In our age, many distinguish their voice and are able to more easily express their company message through social and web platforms.
Step 4: Establish your brand content. Time to start creating your digital media content! From social media content to advertisements, to stock photography and headshots, this is an ongoing process. Many choose to continue to work with their designers throughout this process whereas some platforms can be self-taught such as Adobe and Canva.
Step 5: Brand Positioning. Now that steps 1-4 are complete, you are officially ready to put yourself in front of your audience! This is where I usually come in with clients though we also offering brand develop throughout the early stages. I specialize in positioning a client creatively with their target audience and clientele. This is typically done through consistent and creative effort via Public Relations, Publicity, Advertisement, Event Planning, Digital Media such as blogging, newsletters and social media, and brand and product placement.
This week, I'm offering a FREE TEMPLATE AND CHECKLIST for your brand development stage: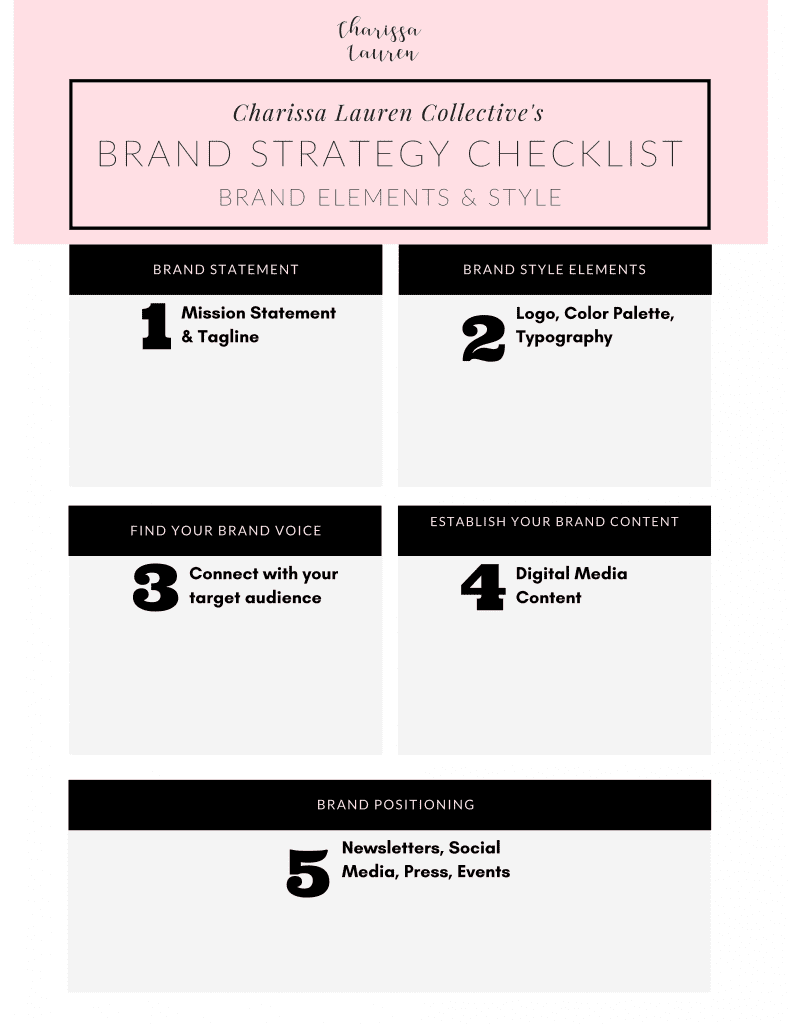 If you have questions about your brand development and public relations, feel free to contact us at info@charissalauren.com and view our experiences at www.charissalauren.com.