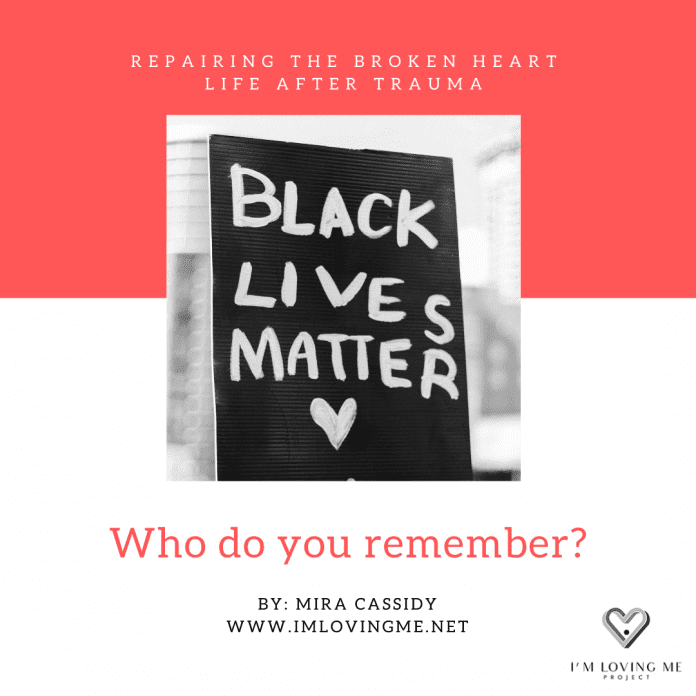 George Floyd
Ahmed Aubrey
Breonna Taylor
Who do you remember? What names will you never forget? Maybe Botham Jean, who was fatally shot on September 6, 2018. While sitting on the couch in his own apartment, an off-duty police officer that lived in the same complex mistakenly walked into the wrong apartment and fired her gun.
What about 32-year-old Philando Castile? On July 6, 2016, Officer Yanez, of the St. Anthony, Minnesota police department pulled him over for a routine traffic stop along with his girlfriend Diamond Reynolds and her four-year-old daughter. After complying with all his requests, behaving appropriately, and displaying good citizenship, Castile was shot by Yanez. Quick thinking Diamond live streamed the incident on Facebook to protect herself and young child from being murdered as well.
Stephon Clark
Eric Gardner
Sean Bell
Trayvon Martin
Maybe the names listed are among those that you remember. Perhaps you can think of many more names. While you remember the names of black lives innocently taken because of prejudice and racism, do not forget to include the names of those who fought for black lives.
Viola Liuzzo
James Reeb
Viola, mother of five, was shot on March 25, 1965 by the Ku Klux Klan as she provided transportation to the Montgomery airport for African Americans participating in the events occurring after Bloody Sunday in Selma, Alabama. She felt a call to duty and left from Detroit to assist. Many may never know her story, or understand the persecution her children went through as teachers, neighbors, and community members showed no mercy or empathy for their loss. They endured torment and several injustices all while grieving the loss of their beloved mother.
Yes, all lives matter! White lives matter. Brown lives matter. Blue lives matter. Unfortunately, for too long black lives have mattered a lot less than any other on the face of this earth for hundreds and hundreds of years.
Mira Cassidy
Author, Journalist, and Motivational Speaker
Speaking Topics include:
Breaking Free from Interpersonal Abuse, Overcoming Adverse Childhood Experience, Breaking Toxic Cycles and Maintaining Health and Wellness
Email miracassidy@gmail.com and visit miracassidy.com