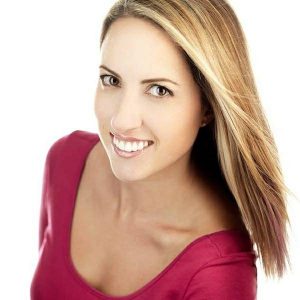 Ashley Boynes-Shuck is a published author, award-winning blogger, freelance social media consultant, well-known social media personality and influencer, and avid health advocate and animal activist known for her inspirational self-help work in the health and wellness field, her entertainment, fashion, and pop culture savvy, and her multiple book projects, television appearances, and philanthropic works.
This week we're inspired by a woman who took a personal illness and refused to let it set her back. Reaching for beyond the stars, Ashley's list of accomplishments are impressive. With several written books, health advocacy, philanthropy and national recognition, Ashley is a positive influence and a real voice.
1.)    What inspired you to start writing?
I have pretty much had the same interests since childhood, to be honest: reading, writing, fashion, music, and animals. I began writing in my gifted program in 2nd grade as soon as I learned to type, and quickly began putting together my own chapter books. I have loved books for as long as I can remember. Writing — all types of writing! — has always been a creative outlet for me. I've freelanced for various magazines, websites, and publications since I was 18, and have always been inspired to write, mostly because I'm a voracious reader who loves words, storytelling, and artistic expression.
2.)    Any big projects coming in the future? 
Yes. I am actually in the editing phase of my 4th book — my second fiction novel. It's in the YA genre. While my two nonfiction health memoirs have done relatively well, my passion really lies with fiction and creative writing. So, I hope to get this new book published, but we'll see. I'm also taking a planned step back from some of my patient advocacy week for a bit, and rebranding with a new website and a new mission, while still focusing on my writing and my full-time job working for a startup app. I'm also helping my husband with an exciting project that he has in the works, too. We are each other's biggest fans and supporters! 3
3.)    Where do you see yourself in 10 years?
Hopefully in 10 years, I'm an established fiction author, maybe doing some public speaking or hosting a podcast, and somehow immersed in the world of entertainment and pop culture. I'd love to be traveling with my hubby Mike, and, most of all, happy and healthy. And if I'm still working my same full-time job on top of all of that, then I just hope that I'm doing so while staying fulfilled and passionate about it, and true to myself. That's the most important thing: authenticity. I don't want to be doing something for the sake of doing it, unless I feel that I'm still being "me" and still being my best self while I'm at it.
4.)    Do you have any tips for women in business?  
My biggest tips for women in business are to support one another, to be empowered, to stay authentic, and to not be silenced or dampened by naysayers or critics. Don't apologize 24/7; don't avoid doing things out of fear; don't shift who you are to fit into a role that you feel you "have" to fit into. Be assertive. Be kind. Be bold. Be daring. Be respectful and respected. Watch out for compassion fatigue, and watch out for bitterness.  Don't compare your progress or your success with others. Don't feel like you have to be all things to all people, unless that's what you WANT to be. Learn that saying no can be your best yes — everyone from Lady Gaga to Lysa Terkeurst to Rachel Hollis and Oprah Winfrey agree with that idea! — and that it's okay to be unashamedly and unabashedly yourself, no matter what others think of it.
5.)    On juggling your own businesses, how do you find balance in life? 
I find balance because I work at it. I make a concentrated effort to try to balance self-care and productivity, and work, and play, and rest. I try to balance my career and my social life, while taking care of myself physically, mentally, emotionally, and spiritually. It doesn't mean I don't have difficult days or days where I accomplish less than I want to, but it does mean that I try not to let them knock me off-track for too long. I make the effort to tend to all areas of my life and to take time to myself when I need it — I think that's super-important. Having lived with medical issues my whole life, it's especially crucial for me to find balance and to be mindful, but, in reality, it's vital for everyone, and not just those who have health problems. That said, women need to be sure to take care of their health in conjunction with their careers and their home lives. A lot of times women neglect themselves to empower or care for others. Society needs to start making a shift away from that idea that women are meant to sacrifice their health or happiness to be helpful or pleasing to other people. We are worthy and deserving of wholistic vitality and this includes not just our professional lives or familial, social, or romantic lives, but also in our health, too.
6.)    How do you hope to empower women in business or with an imprint you'd like to leave? 
I think women in business — and women in general, people in general — need to focus on lifting one another up instead of putting one another down.  Another person's success doesn't mean that we are failures. Comparison is the thief of joy. All of those cliches and adages are true. Mostly I try to follow and live by the advice of Ellen DeGeneres: "be kind to one another." And also, to focus on what we can do instead of dwelling on what we cannot. That little piece of wisdom has been a game-changer to me.