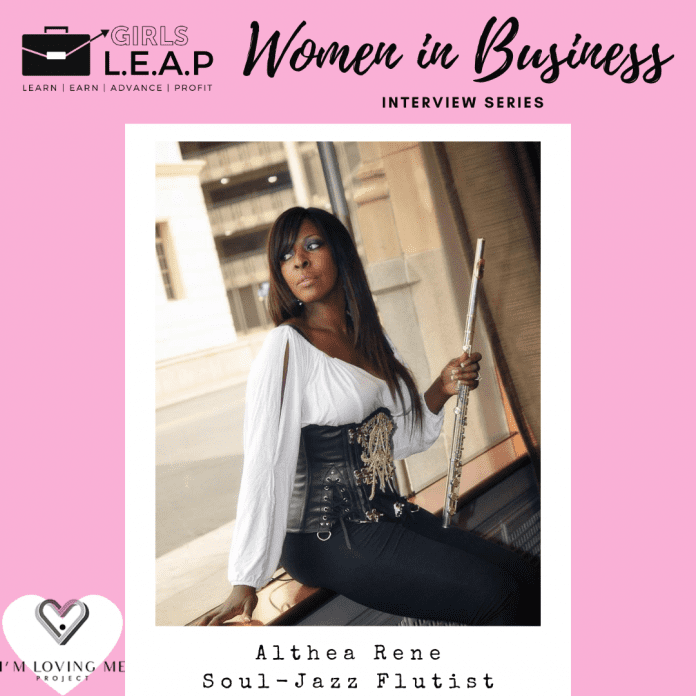 Born to jam!!!
Since she was four-years-old, Althea René, soul-jazz flutist studied music. Growing up the daughter of one of the original Motown Funk Brothers, Dezie McCullers, music was woven into her soul. Althea continued her love and studies in music when she attended Howard University. Then, she built a following and fan base by performing in jazz night clubs and today is a full time performing and recording artist.
Moreover, Althea is not only an advocate for the arts, but she is passionate about helping women from within the culture. She is the author of Becoming Chocolate Barbie, an autobiography that guides professional women in the music business. Ms. Althea René shared with us just how she became a success doing what she does best!
I'm Loving Me: Tell us when and how you started playing the flute?
Althea: I grew up in Detroit and started playing the flute at the age of four. My older sister played, so I asked her if I could play it and was hooked.
LM: When did you decide to take the LEAP and become a professional soul-jazz flutist?
Althea: There was never a time that I actually decided that I wanted to play professionally. The flute was just a part of me and it was something that I've done as long as I can remember.
LM: What's the best part about being your own boss? The worst?
Althea: The best part about being your own boss is that you get to choose how you want to present yourself and how you want to be interpreted musically. The worst part about being your own boss is that you have to be careful when representing yourself and not let business get too personal.

LM: What have been some of your challenges and successes in business?
Althea: The success in business can be measured by your popularity, building relationships, and building your brand. The challenges are "Vasque" and happen daily in the music business from having to juggle travel, performances, rehearsals, and hiring different bands for every show.
LM: What advice would you give to a young lady who is a musician and wants to follow a similar path? How can she get started?
Althea: My advice to anyone getting into the music business is to realize that the music and the business are two separate things. One needs to have a real knowledge of both. The days of getting a record deal have passed, so you need a working knowledge of how to book flights, shows, put bands together, make sure they have your music, be your own stylist, and understand social media.

LM: What are the 3 skills every entrepreneur should have?
Althea: 3 skills an Entrepreneur should have:
Highly driven
Not afraid of failure
Able to make connections
Learn and Listen to the smooth sounds of Althea Rene here!