As a Black woman, entrepreneur, and founder of 'Buy From A Black Woman,' Nikki Porcher has made it her mission to uplift Black-owned businesses and empower the Black community. With her inspiring leadership and unwavering commitment to promoting economic equity and social justice, Nikki is a shining example of what it means to be a trailblazer in today's society. In this exclusive interview, we had the pleasure of speaking with Nikki about her journey, the challenges she's faced, and her hopes for the future of Black-owned businesses. Read on to learn more about Nikki's incredible story and the important work she's doing to create change in our world.
Here's what Nikki had to say…
Can you tell us about the inspiration behind Buy From A Black Woman and why it's
so important to you?

I was inspired to create Buy From A Black Woman when I realized how Black Women Business Owners were being excluded from opportunities. This all started because I'm a half marathon runner; my goal is to run a race in all 50 states. But I shattered my kneecap sumo wrestling, then I started running, and in December 2015 I was on my way to go do a half marathon in Florida when I missed my flight. Which I was very upset about! And to make myself feel better, I decided to go shopping. So I went to an event in Atlanta, but I was the only Black Woman at the event. There were no Black Women vendors, no Black Women shoppers, literally, I was the only Black Woman. And that was insane for me to be somewhere like Atlanta, Georgia, and be the only Black Woman in there. There was this one woman in particular, she was selling lip balm, and she had sold out, so she was collecting people's emails. At the time, I was in the marketing space working in a nonprofit, but I wasn't familiar with email marketing. So I spoke to her and asked why she was collecting emails. She told me her lip balm was out of stock, and she was going to email the people to let them know when they could buy it again. I was amazed by that. Not only because she was able to collect all these emails, but because people wanted to buy her products so much that they were willing to share their email addresses with her. And I knew Black Women Business Owners who were selling
better lip balm; while not at the price point as her, but they weren't collecting emails to
market future and current products. So I did something about that. I started what I called The Buy From A Black Woman
Challenge. I'd find unique Black Woman-Owned Businesses, buy from them, and just blog about it. I blogged once a week and the blog took off. My friends and friends of friends, friends of friends of friends were sharing it and other Black Women Business Owners found it and asked how they could be featured on the blog. They wanted to send me their products, but the whole point was that I had to buy them. And there were people who wanted to support the blog and were sending me money so that I could keep it going, keep buying from Black Women. And two things they teach you in nonprofit and advocacy spaces, you want people to promote your mission and your message, and you want people to donate to your cause. Which people were doing, so I thought this must really be something. I went on to start a nonprofit organization. I had been working in a nonprofit for about seven years prior to this, so I knew the ins and outs from working with big and small nonprofits. And I had a good feeling, like this was something I could do. And it wasn't until April when I launched the Black Woman Business Grant and was able to award another business, Ivy's Tea Co. (now known as Flyest), that I knew for sure it was okay. I was going to call her to let her know that she had received our inaugural Black Woman Business Grant when I received my 501(c)(3) paperwork from the IRS in the mail. That's when I knew things are always working out for me, they always have and this was supposed to be something real.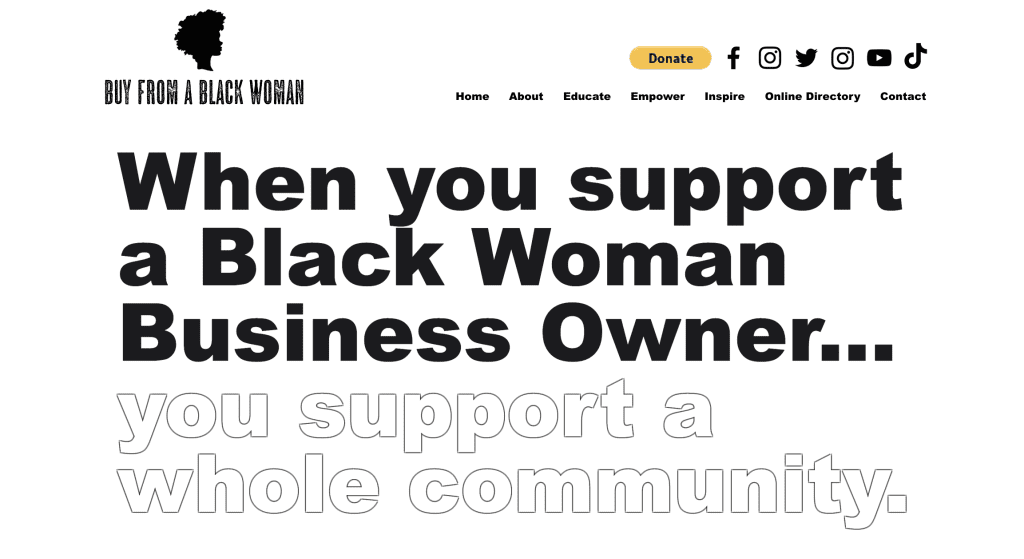 Can you share with us your experience as a Black Woman in the business world
and the challenges you have faced?

When I was building my business I discovered hidden challenges that I had to face because I'm Black and a woman. And all the programs focused on just founders or just women didn't even take these roadblocks into account because they didn't have them. So things like getting funding became more complicated because we'd follow the steps they gave us but because of bias and systematic racism, they'd deny our applications at a higher rate, or when they did approve them, they gave us less money at higher interest rates. So if you didn't know how to navigate this and advocate for yourself, or if you didn't have access to informal networks and people of influence to sponsor you and put you forward for funding opportunities, you got left out in the cold. Which is why the majority of Black Women-Owned Businesses are self-funded. So we're tapping into our savings and our 401K's, which makes this a lot more riskier for us. Our peers are actually given the funding to try and fail until they get it right, but usually we can't afford that, and failure can be catastrophic. Meanwhile, entrepreneurship does require some element of failure in order to get to the best version of the product or service, but that's a luxury we often can't even access. Building equitable partnerships is another one. Everybody wants to partner with Black Women to mine them for their ideas, their energy, their creativity, but very few are willing to do this in a sustainable and equitable way. But if you don't have the background, how do you know what equitable even looks like when someone puts a contract in front of you? If you don't have mentors or people who've been in this position before who are willing to tell you the truth about how things really work, how do you keep from getting taken advantage of? There are so many levels to building and sustaining a business where lived experience can make or break you, which is where Buy From A Black Woman comes in. I've been through the experience building my businesses for seven years, and I've taken multiple businesses through it, some of which are now six-figure businesses. So I've created the partner that I needed back when I was all alone and trying to figure it all out. A supportive system catered specifically to Black Women Business Owners, that helps them navigate business in a
sustainable way. Black Women shouldn't have to burn out to figure things out. We shouldn't be doing this alone. I don't want them to do this alone, and I don't want them to be taken advantage of. So we mentor them, we have classes and workshops so they can learn about everything from marketing to trademarking their intellectual property, we fund their ideas and businesses, and we have a community of other women who are on the same journey so they can be connected to something real.
How does Buy From A Black Woman support and uplift the Black community, and
why is this support so important?

When you support a Black Woman, you support a whole community. Black Women are the heart and soul of their communities. They lead when it comes to caring for the community, supporting the community, and filling in the gaps that are a result of the lack of funding in our
communities. And 60% of Black Women are the head of the household too, so they're doing all of this while taking care of their families. As business owners, they're doing all of that while also creating jobs in the community, helping develop and invest in infrastructure for the community, attracting more business to the community, and paying taxes that support community development and lead to improvements.
Ultimately all of this helps improve wealth in the community, and we know that wealth and more resources result in better outcomes when it comes to things like health, education and career choices. So by supporting Black Women Business Owners, Buy From A Black Woman uplifts the Black community on an economic and social level.
How do you see the future of Black Women in business, and how do you hope to
contribute to this growth?

Black Women Business Owners are the future when it comes to business. We've been examples when it comes to trends, forecasting, and projections. It is my hope that I continue to share space so that Black Women can continue to claim their rightful place as innovators and leaders in their Industries. I also see Black Women-Owned Businesses getting more community support, and business partnerships that are truly equitable and that support their brand goals, and I see them running the enterprises of the future. Buy From A Black Women is contributing to this growth by giving them everything they need to get to this point. We're giving them the type of education you only get when you're deep in it. We're telling them how to do it without getting burnt. We're helping them troubleshoot, helping them pivot. And we're affirming them and making sure that they're also resting and taking care of themselves on this journey. They're succeeding because they know they aren't in this alone. They feel comfortable asking for what they need knowing that they will receive support and they finally have a safe space to be everything that they are without judgment. Which opens them up to a level of creativity that most of them have only ever dreamed of. And we have case studies and real numbers to show that our work is working. For example, last year we helped 52 Black Women-Owned Businesses get their products on shelves in H&M stores across the country. They were featured in a national campaign alongside brand ambassadors Brandy, Cleo Wade, and Tracee Ellis Ross. This is the type of PR that most small businesses can't afford, let alone dream about. And it was great for them in terms of both brand awareness and sales. So because of initiatives like this, we set our Black Women up to make more than $2.7 million in revenue last year. Meanwhile, the businesses that aren't getting this level of support are shutting their doors because running a business during a pandemic, in a recession, and as an individual who is systematically excluded, denied, underserved and unsupported is tough.

So contributing to their growth is our guiding light; it's our main focus. It's a value we always come back to and a value we always will because supporting Black Women is what we do.
Can you speak to the importance of self-love for Black Women and how you
incorporate this into your work with Buy From A Black Woman?

Our theme for this year is Black Women Deserve. And we've been sharing things Black Women deserve as a reminder and to affirm them. If you look back you'll see that we've been saying Black Women deserve rest, Black Women deserve gold, Black Women deserve to be celebrated, Black Women deserve home runs. Black Women deserve advocacy that extends beyond words. Black Women deserve to be seen and heard. They deserve to speak their truth.
Black Women deserve Brand Champions who show up for them consistently to support them in the ways they need. And long-term, not just for a season. We incorporate Black Women Deserve into everything we do and say, so that Black Women see it and then go out and achieve it for themselves.
Can you share any success stories or experiences that have been particularly
meaningful to you through Buy From A Black Woman?

Yes, the first thing that comes to mind is our first grant recipient, Shanae Jones of Flyest. She started in 2016 with a dream of being a certified herbalist and wanting to make loose-leaf tea, while sharing hip hop culture in the process. And since then, she's transformed into this amazing tea company that's inspiring because it shares the culture, but also educates people on natural ways to fix their mind, body, and spirit just through drinking tea. I admire her as an individual because I know how hard it is to work and do something that's not the norm. Trying to get Black people in the hip-hop community to normalize tea drinking, especially in this coffee-addicted world, is real work! But she's doing an amazing job with it. Shanae has been able to take her business from a startup to a mature, sustainable business that generates six figures in part because of the funding, mentorship, and opportunities we've been able to provide. She's one of our greatest success stories and a living example of what's really possible if you have an influential partner who co-signs your dreams. And in the process of supporting her, Shanae and I became best friends, which was totally unexpected. One day she called me to ask me something, and we just never stopped talking. Which is another reason that building a community with Buy From A Black Woman is important to me. Now Black Women can be with other women just like them, having a similar experience, to bounce ideas off of or laugh or cry together. And in the process, they may make some lifelong friends, meet business partners, investors or just build healthy relationships.
How can our readers get involved and support Black Women in business, and the
Buy From A Black Woman initiative specifically?

There are a couple of ways for your readers to get involved:
Donate to Buy From A Black Woman. We're a nonprofit organization, which means donations help keep the doors open so we can continue to support Black Women Business Owners, because they deserve this level of support.
Use the Buy From A Black Woman Online Directory of verified, Black Woman-Owned businesses to buy from Black Women. Pick an item in your home or life to replace with a Black Woman-Owned Brand, find a business in our directory to shop with, and then commit to buying from them long term.
Join Buy From A Black Woman and add your business to our directory if you're a Black Woman Business Owner. Or have someone get you a membership as a gift. As a member, you'll gain access to funding, exclusive partnerships with major brands, marketing and promotional support, advertising opportunities on various platforms including our 200,000+ social media networks, tools, resources, and a supportive community. You get a partner who believes in you and provides the type of support that helps you win.
Businesses who want to partner with us and support the incredible work we're doing can email us at info@buyfromablackwoman.org.
And everyone can follow our social media accounts and engage and amplify our content to help us reach more people. We're @buyfromablackwoman on Instagram, Buy From A Black Woman on Facebook, @bfabwinfo on Twitter, Buy From A Black Woman on TikTok, BFABW.tv on YouTube, and Buy From A Black Woman on LinkedIn.
But if you want to keep it simple, just Buy From A Black Woman.
What advice do you have for Black Women looking to start their own businesses,
and how can they navigate the challenges they may face?

You are brave. You're the most courageous person in your friendship circle because you decided that you want to share your gifts, your talents with the world. So the bravery that it took to step out and start this business, remember that every day. Remember every day why you started, how brave it was for you to start, how brave it was for you to take this risk to invest your own money and to just run with the idea you had.

You got this Black Woman, you can do this.

And please know that you don't have to do this alone. We have tons of resources on our platform to help you with your business. And there's a community of other Black Women who are doing it as well, so you can even reach out to them for encouragement, business advice, and stuff like that. But you know you're brave, so never forget that you're a courageous being just for starting.