Giya Rush was born in Saudi Arabia, and raised in Jordan. As one of the few female composers of Arab heritage, Giya takes pride in shattering stereotypes about women in film music, and about Middle Eastern women in general. Despite a physical attack after her concert in Jordan, this resilient artist continues to share her voice and her emotive and provocative scores with American audiences. She is especially interested in scoring films not traditionally offered to women, such as big action films.
Giya entered the world of music at the age of four. Playing piano by ear, then receiving formal and classical piano education. From childhood, she intended to become a concert pianist, and followed that path until 2008, when she lost her first love to cancer. Composing became a coping mechanism, and continued to help her grieve when her father passed away two years later. These events have profoundly shaped her music.
She attended the Royal College of Music in London, the Conservatoire National de Danse et de Musique de Lyon in France, and Yermouk University in Jordan, acquiring three degrees in piano performance and musicology along the way, as well as proficiency in three languages. Always pushing further, Ghiya will be starting a fourth degree at another distinguished institute, this time in neuroscience. She is also currently learning to speak Mandarin.
In 2014, Giya moved to the US. Upon her arrival, she composed her first Hollywood film, Pen of Mirrors (starring Eric Roberts). Her melodic, dissonant, and layered score quickly gained wide critical acclaim, and has lead to steady work in Hollywood, on films, television shows, and video games.
In 2016, she received a commission for composition for a royal event, where she can return to her musical and cultural roots and compose Arab and oriental music for the event. She has since composed pieces for other royalty from a variety of Middle Eastern countries.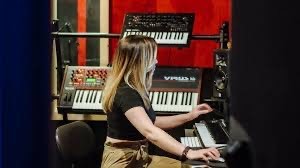 What do you see when you look in the mirror?
Every time it's different. And mostly it depends on my mood at that moment. But I'm general, I see a person worth loving and taking care of at all times.
What do you do for a living?
I make music for film, tv and video games.
How do you think self-love plays a role in success?
That cliche "if you don't love yourself, you won't be capable of loving anyone" is actually true. Self care and self love play the biggest role in creativity. I don't believe that suffering drives inspiration. Clarity, tranquility, peace and positivity do!
How do you think we, as women, can work together to lift each other?
By being happy for eachother's success and not try to demean or diminish or trash it. Hiring more women, of course because they're qualified in the first place, and helping with providing them with more opportunities.
Have you had any adversities that you've had to overcome in order to achieve success?
There will always be challenges and obstacles. Mostly the voices in your head telling you you're not adequate, and having those voices reinforced by 2-3 trolls against thousands of those who love you and love your work. The key here is to stay grounded and remember why you're doing what you're doing, having a support group and taking breaks often.
What inspires you to keep growing?
I am quite proud of having been to the Sundance composers lab at the Skywalker Ranch and having my Carnegie Hall debut in a month from now. I am constantly driven and motivated to grow by the huge list of to-accomplish's I still have to cross off!