For the past 4 years, Monica Mason has become one of Philadelphia's hottest Celebrity Radio Host and put Philadelphia internet radio on the map. Monica is known on the airwaves as "Simply Monica" and in the Philadelphia community but what the world did not know she found herself caught between a real-life love triangle with the man who she began her company with becoming his mistress.
She recently decided to share her story through a dramatic stage play this fall and trading in her mic to help other woman overcome being in a love triangle. This play is specifically written to uplift women around the country who have not only dealt with relationship hardships, infidelity and the effects associated with the trauma of break-ups, but it sheds a bright light on the courage, strengths and fortitude of women to endure and succeed.
ABOUT: Monica 'Simply Monica' Mason is a vivacious media personality, motivational speaker, comedic orator, and entrepreneur who exemplify what multi-talented looks like. Monica launched award-winning internet radio station Heat100Radio.com in Sept 2014 and is host of "The Morning Rush" & "Inspire to be Inspired" shows. The Heat100Radio brand has grown into a household name with over 25,000 listeners daily and climbing with the downloadable app. Since its premiere show, Heat100Radio has opened a second station in the DMV area, with the vision of opening a Heat100Radio location every 6 months in major cities across the globe.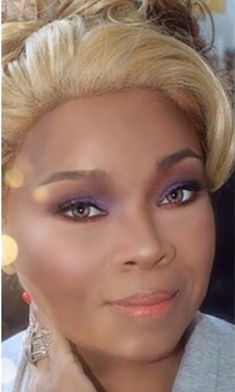 What do you see when you look in the mirror?
A woman who was once unsure about her life but now has the strength and courage to do anything she puts her mind to!
What do you do for a living?
By day I'm an on air internet radio personality and during the evening I manage a night club.
How do you think self-love plays a role in success?
If you don't love yourself you won't know how to love anyone else.
How do you think we, as women, can work together to lift each other?
First we as women must want to see the next woman win even if her winning surpasses where you are currently in your life
Have you had any adversities that you've had to overcome in order to achieve success?
Yes. I was once morbidly obese. I had to lose weight not just for myself and health but also to be taken seriously in what was once a male-dominated industry. 
What has been your greatest accomplishment to date?
Getting over my fear of being alone.