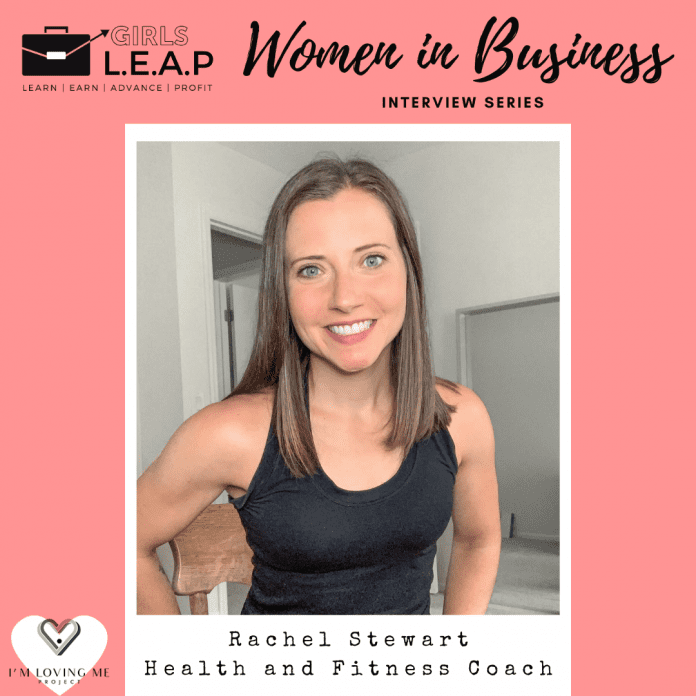 "I spiraled into every kind of eating disorder that you can think of during my 15-year battle with my weight and my body. Finding balance and a love for being strong is what finally saved me from myself." – Rachel Stewart
Girls L.E.A.P. is honored to feature a woman who has overcoming self-doubt and self-destruction to become an empowered, balanced success. Now she is helping others find the same balance and power. Let's learn more about certified health and fitness coach Rachel Stewart:
"I was born and raised in Ohio, where I still live with my dog Luna. For the past 8 years, I worked as a high school Spanish teacher and also growing my online fitness coaching and personal training business, as a way to supplement my income and fuel my fire for helping women find confidence and freedom in their bodies. Growing up, I was active and healthy, but struggled with my body image and relationship with food from a very young age. I spiraled into every kind of eating disorder that you can think of during my 15 year battle with my weight and my body. Finding balance and a love for being strong is what finally saved me from myself. It is what inspired me to get my personal training certifications and to stop at nothing to build a business that would allow me to help other women celebrate themselves and their power.
Girls L.E.A.P: Tell us about your business.
Rachel Stewart: "In my coaching business, I use balanced strength training and flexible nutrition to help women gain strength, lose weight, and feel more energized and confident every day! Being a teacher at heart, my goal is to have the whole coaching experience be educational and empowering so that after working together, my clients have a true understanding of how to fuel and move their bodies. It's more than just an exercise or weight loss program, it is their first step into creating their healthiest lifestyle. I offer 1:1, totally personalized coaching programs and a group program. On my site, you will also find self-paced nutrition and fitness courses."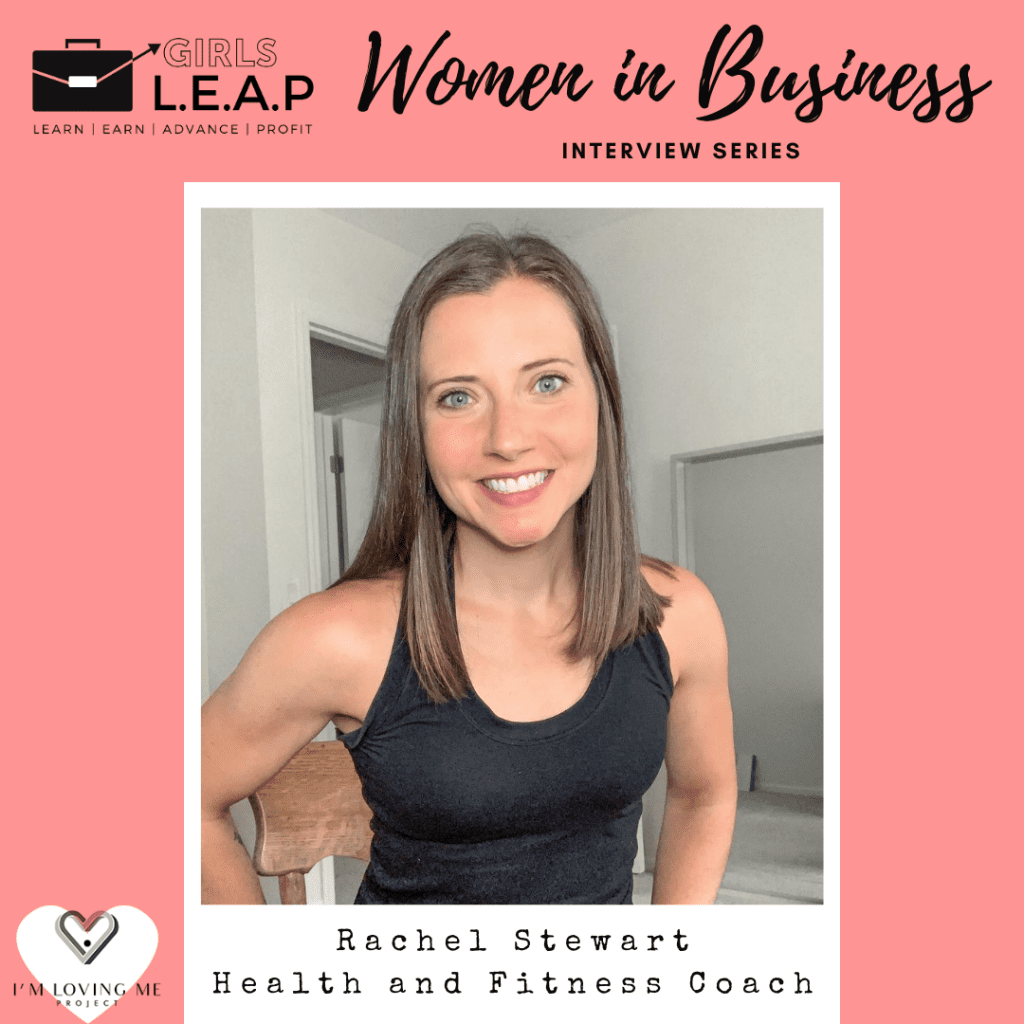 Q: Why did you decide to take the LEAP to become an entrepreneur?
A: "Finally taking the leap to become an entrepreneur took me a couple of years. For almost 3 years, I worked full time and built my business from scratch. Just this summer, I decided to leave my full-time job and put all of my energy and attention into my coaching business. For me, the decision was about being freaking tired! I was tired of working 2 full-time jobs, tired of splitting my passions, tired of spending every ounce of energy serving others. It was a realization that my own self-care mattered too, and a declaration that I was going to make it work being self-employed. The moment I decided to take entrepreneurship full time, I felt so free! My energy changed, and the Universe responded by creating more opportunities for me to continue following my passion to succeed."
Q: What's the best part about being your own boss? The worst?
A: "The best part of being my own boss is being able to take my time in the morning. Having a calming, intentional morning routine is priceless when it comes to creating a productive, aligned day. Every morning I sip my coffee, journal, and think about how grateful I am to be able to create my own schedule. I have my peak in creative energy in the mid-morning, so I can arrange my day around that, and it has been a game-changer in my productivity.
The worst part of being my own boss is… well, I am still waiting for a bad part really. I love being my own boss! If I had to choose, I would say the responsibility I feel to make all the decisions and handle all of the administrative tasks."
Q: What have been some of your challenges and successes in business?
A: "My biggest challenge at the beginning of my business was my fear that I would be "annoying" when I was marketing my offers. I did a lot of work rewriting this limiting belief. Now I realize that if I don't promote my business, there is no way that I can bring in new clients. There are people out there waiting for me to invite them in, and they will never be reached if I am afraid to talk about what I have to offer. Those are the people that I focus on when I am promoting, the others can just move on by.
My favorite success has been my group coaching program! I was hesitant to do a group program at first because I believe so completely in personalized programming for both fitness and nutrition. But, I really wanted to have an offer that was more approachable and inclusive at a lower investment point. I was very careful about how I created and delivered the first round of the group program so that it was adaptable and allowed for a lot of interactive coaching. That first round went so well! I am currently running my 3rd round of the group program, and it has become my signature offer! The perfect balance of group dynamic, great programming, and an intro-level price point that allows me to help so many more people."
Q: What do you love about working in your city?
A: "I live and work in Dayton, Ohio. I love this city because it is the home I created when I went out on my own to start my adult life. I love the openness and friendliness of the people, the diversity that I get to work with, and how easy it is to work both online (in my coaching business) and in-person (at the gym where I train and coach as well). This city has been through a lot, and it is so strong because of that."
Q: What are the 3 skills every entrepreneur should have?
A: "3 skills every entrepreneur should have:
perseverance – it's never going to be easy right off the bat. Believe in yourself and keep going, even when it's hard or feels impossible. You can't be stopped
self-discipline – being your own boss requires you to make sure your stuff gets done in a timely manner.
positive energy – it's what people are drawn to and what will help you to enjoy the process along the way"
Would you like to learn more or start your fitness journey?
Contact Rachel: www.RachelEStewart.com @rachel.stewart.fitness
Facebook community: The Energy and Confidence Club