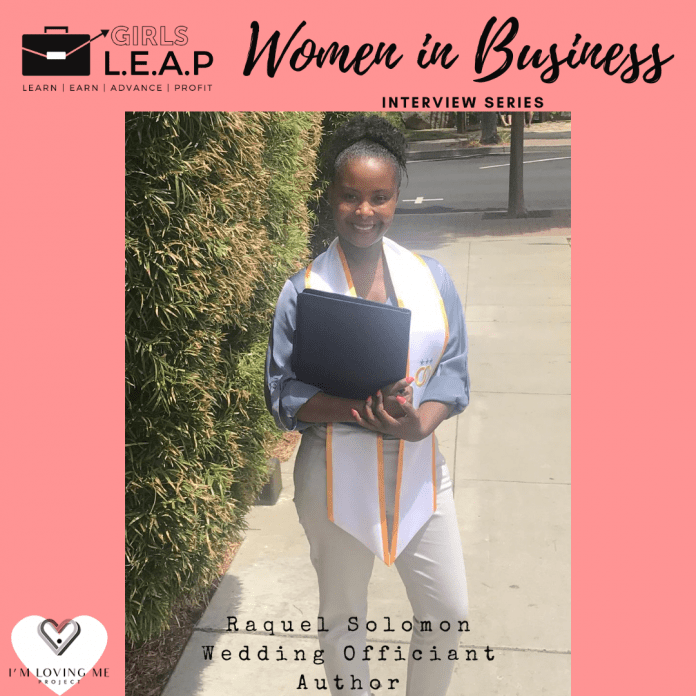 A woman with exceptional gifts and talents, Raquel Solomon is not only able to guide couples through one of the biggest days of their lives as a wedding officiant, but she's also a mentor and a published author. Raquel helped us learn what it means to be business-minded and a businesswoman!
I'm Loving Me: Tell us about your business.

Raquel: "I started Ceremonies by Raquel January 2020 because I knew working with couples would be fun and exciting.  Fun and excitement was also something I desperately needed in my life. I had to dig deep and find what really makes me a happy camper deep down inside.  While I was deciding. COVID-19 arrived.  With all the uncertainty, courthouses being closed, and social distancing in place, wedding officiants have slowly become a popular profession.
 
In addition to a wedding officiant, for the past 35 years, I have been a full-time employee for the State of California. Also, early 2004 I became the founder of Foundation TAMARA, which is a nonprofit that mentors young girls ages 8-18.  Topics discussed are self-esteem, credit and financing, college preparation, women's health, and various other topics.  At the age of 50, it is imperative that I find my passion quickly so that I can start to live for myself and do things that fill my soul and make others happy as well.
 
Moreover, I am a college graduate, mother of two adult daughters, and a grandmother."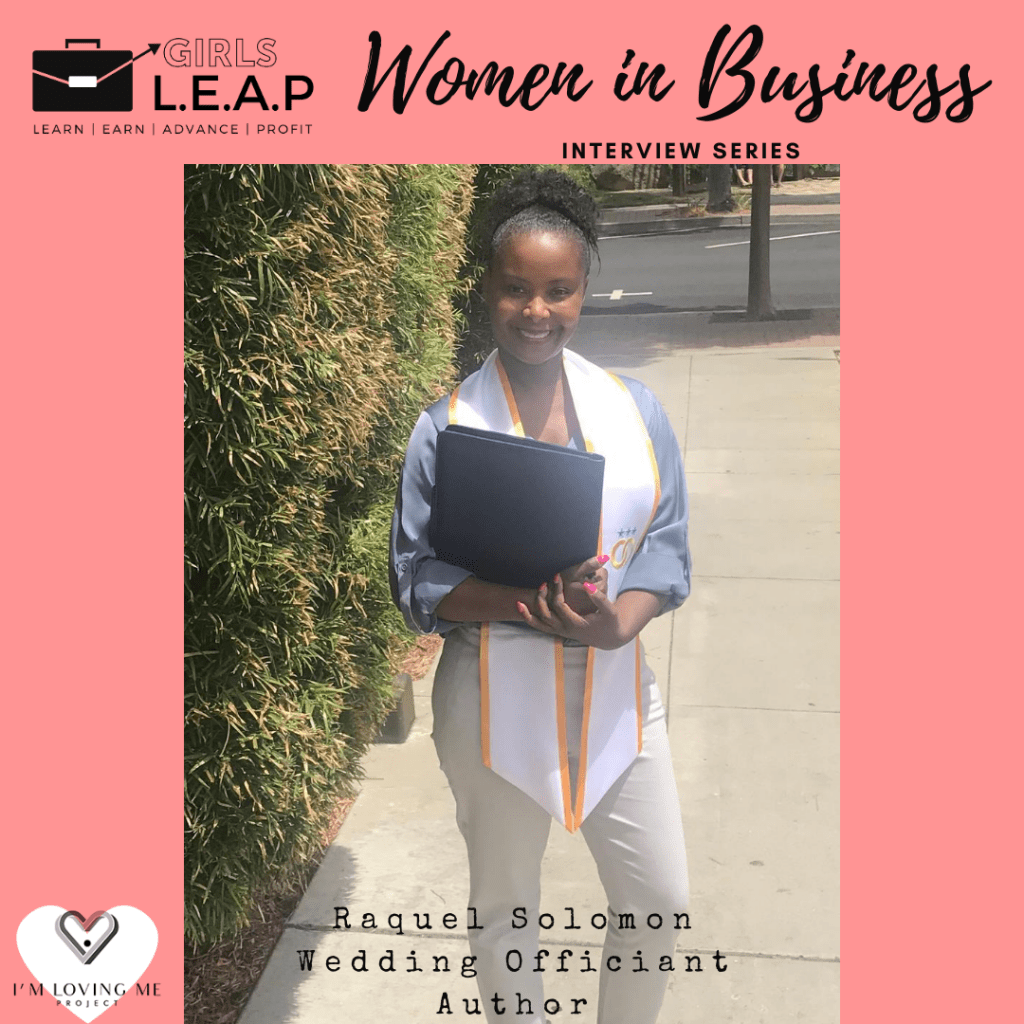 LM: Why did you decide to take the LEAP to become an entrepreneur? 
RS: "I had no choice. I am at the age where if something isn't fulfilling then I don't want to be a part of it.  My job of 35 years I am so thankful for, but it's not my passion.  I have always felt it was necessary because it paid the bills.  You grow up being taught to get a 9-5 for stability and security and to maintain health insurance and a steady income.  No one discusses the impact an unfulfilling job can have on your health.  Being an entrepreneur is stressful but it's good stress (if there is such a thing.)  It feels good to invest in yourself."
 
LM: What's the best part about being your own boss? The worst? 
RS: "The best is you make your own rules and can set your own hours and work in your pajamas from home. The worst part is you must have good organizational and time management skills to be successful. Clients can and will sense your level of competency real quick and being consistent is key!!"

LM: What have been some of your challenges and successes in business?
RS: "Just learning how things work like contracts, accounting, scheduling, pricing, and so forth.  I'm still working out the kinks but it's exciting because they are my kinks to work out, rather than some other companies' problems."

LM: What do you love about working in your city? 
RS: "I live in the State Capital of California and there is always something new to learn.  There are a lot of local businesses opening here in Sacramento and it is very encouraging to see people investing in the city and themselves."

LM: What are 3 skills every entrepreneur should have?
RS: "Discipline, motivation, loyalty to your dream/passion (don't sell yourself short if you want it, go get it!!!)"