Cori Wamsley helps speakers, coaches, and other leaders write books and get massive attention to their business, brand, or nonprofit through their writing so they can make a huge impact and achieve their dreams. She is the creator of The SPARK Method of business book writing, and her bestselling book The SPARK Method: How to Write a Book for Your Business Fast helps make the dream of a book come true faster than most people imagine so anyone who wants to hit the next level in their business can do so easily.

Cori also wrote and self-published seven fiction books: four in the Martina Mackenzie series, Confessions of the Editor Brigand, and a self-illustrated children's epic poem, The Knight and the Ninjas. She coauthored the children's book Monkey Mermaid Magic with her daughter London and illustrated it.
Cori is the former executive editor of Inspiring Lives Magazine and a former writer and editor for the Department of Justice and the Department of Education. She holds bachelor's degrees in English and biology and a master's degree in English literature. She is a creative, a dreamer, and a lover of the arts. For more information, please visit www.coriwamsley.com.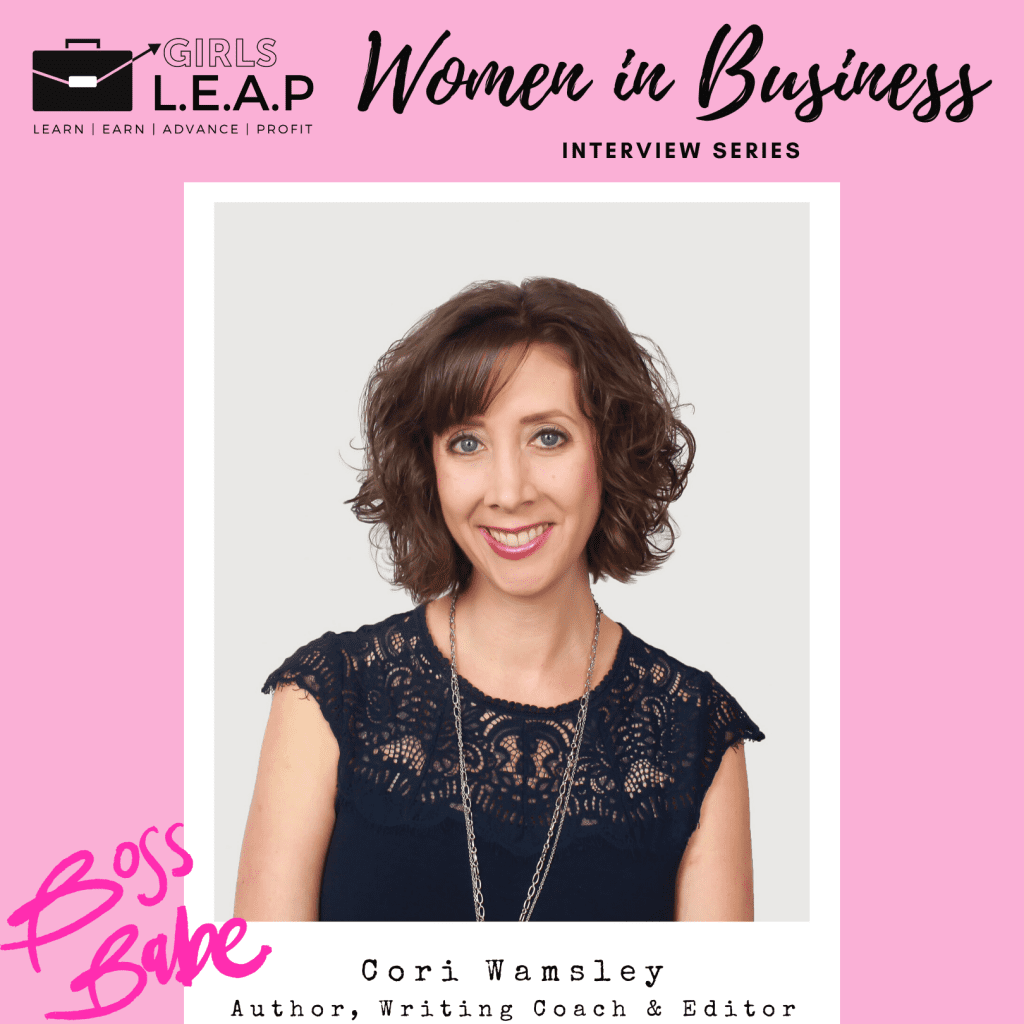 Tell us about your business.
I help speakers, coaches, and other leaders write books for their business, develop and hone their brand story, and discover inspired visibility so they can meet their business goals. When I work with people, they are able to write highly targeted books that solve their clients' challenges, as well as lead them down the path to booking their services and coaching. You can absolutely write a book on your own—everyone has a story that they can share—but I teach a specific process that helps them home in on exactly what the audience needs, keeps them focused on their business goals, and lets them do all of that in just 90 days. Combining your book with what I call "owning your expert," knowing your big message and having the courage to stand behind it, gives you clarity on the visibility you need for your career. When someone has a bestselling book, a powerful platform, and belief in their big message, they are unstoppable!
Why did you decide to take the LEAP to become an entrepreneur?
Funny story. I actually never planned to own my own business. I lost my job in a major downsizing after 10 years of working for the Department of Justice and Department of Energy as a writer/editor. It was my youngest daughter's first birthday, and I also had a three-year-old at home. I was scrambling to figure out what to do because I worked from home and knew another position like that would be tough to find. A friend suggested I start my own business, and over the years, I have adjusted my focus to business books and related activities. Coaching, writing, and editing while working with high-achievers has become something I love!
What's the best part about being your own boss? The worst?
The flexibility has been the best part of working for myself. I don't have to work set hours. I don't have someone peeking at my computer randomly and asking me about what I'm doing (except my kids, which I don't mind). I don't have to sit and wait for someone to get back to me before I can make things happen. And I can take myself and my kids to appointments, pick them up if they are sick, and adjust my day if I need to take a little extra time to take care of me.
The worst part of being my own boss is that I have to create the map. Sometimes, I'm not sure if I'm heading down the right path, but I go anyway because I know I have to keep moving. I don't usually dislike this. It's honestly exhilarating most of the time. But there are always moments of doubt and fear when I click send or lay out a new initiative. You never know what's going to happen, but you have to trust yourself to make a decision and go.
What have been some of your challenges and successes in business?
My business is a very specialized niche, so my biggest challenge has always been getting in front of the right people. With small children, it's tough to plan networking or speaking opportunities very often because I also have to ensure childcare. I've had to be very creative with how I work, but I thrive on solving problems, so it's also been fun.
I've been successful in growing a little bit every year, despite my challenges. I also have managed to publish two more books, bringing the total to 8, since I started my business. The first one I wrote with my oldest daughter and based it on her idea, so she has author credit on Monkey Mermaid Magic, which came out last spring. It was so fun walking her through the book creation process from story through artwork through publication. Plus, I could show her that you can have a crazy dream and find a way to make it happen, which is a powerful lesson to learn so young. I also published my first nonfiction book, The SPARK Method: How to Write a Book for Your Business Fast, which became a bestseller earlier this year. My goal with this book was to show business owners that you can be busy and still turn out a high-quality book that helps you meet your business goals without taking years to do it. I wrote this one in 6 weeks using the method that I teach my coaching clients.
What do you love about working in Pittsburgh?
I've always enjoyed the culture and the possibilities of Pittsburgh. The city itself is inspiring, as the people have helped Pittsburgh with a reinvention, transitioning it from a dirty steel town to a beacon in the environmental movement with its efforts toward repurposing older buildings for modern functions, as well as welcoming new industries that build green buildings and help us make the planet a priority. I've personally been inspired by the business owners here to reach for new ways to do what I love and do good at the same time.
I moved here a little over 10 years ago and have really found my home among the entrepreneurs I've met here. The spirit of tackling challenges and overcoming difficulties drives me and makes me so happy I made the choice to make my home in this area. Plus, it's a big city that isn't too big. It has a hometown feel, it's really navigable (after a couple years of learning it all), and it's beautiful. It's a convergence of not only three rivers but also a broad range of peoples, lifestyles, and loves that make it such an interesting and welcoming place to work and raise my family.
What are 3 skills every entrepreneur should have?
Entrepreneurs need to be equipped with flexibility, positivity, and a love of learning. You won't get very far without those. You have to be able to adapt quickly because you don't always make the best decision first, and focusing on the positive and being willing to read, watch videos, hire a high-quality coach, and try and fail multiple times are really the only way that you can get ahead. No one is perfect, and I think a lot of high-achievers become entrepreneurs and need to learn quickly that they will do something ridiculous or make a bad decision, and you have to just own it and move on without getting caught up in the worry of being judged for screwing up.
We learn as children that the "right" answer is the only thing that we want instead of learning to look at a problem in different ways and understand what's right for us. As an entrepreneur, I've had to learn to be me and own my truth, which has been a challenging journey, but it's also helped me with the three skills I listed first.
Knowing myself deeply and having a clear idea of where I want to go lets me be real with people and love my imperfections. It lets me laugh when my kids walk in the office and ask for a snack when I'm doing a live video. It lets me say, "Maybe I need to try something different" when no one signs up for a lead magnet or even a workshop. It lets me dig around online for an answer to make a page on my website look the way I want because I know it's possible but it just isn't something I know how to do. And it's made helping people get their powerful stories out there and rock their visibility way more fun than I ever imagined.
Please also send any links to your businesses =)
Instagram: @CoriWamsley
Pinterest: https://www.pinterest.com/coriwamsleybizbookdevelopment/
Free Facebook group: https://www.facebook.com/groups/WritethatBookBuildyourBusiness/