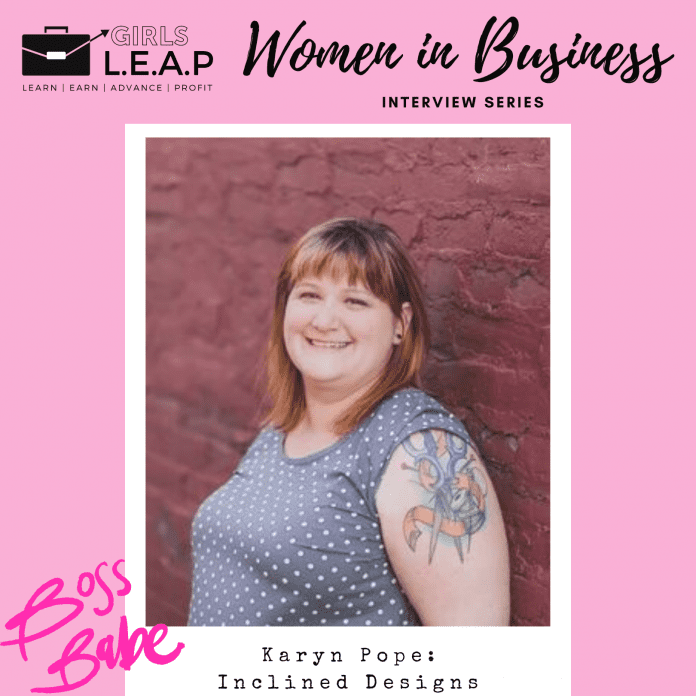 In anticipation of the Girls L.E.A.P. Tour of 2020, we're spotlighting women all over! As our first tour stop is to Pittsburgh on April 18th, our new Women in Business Wednesdays interview series will highlight women-owned businesses in Pittsburgh! We've had our eye on a few Burgh Bosses making big moves! Save the date for April 18th and join us in celebrating women thriving in business and in life. Tickets HERE.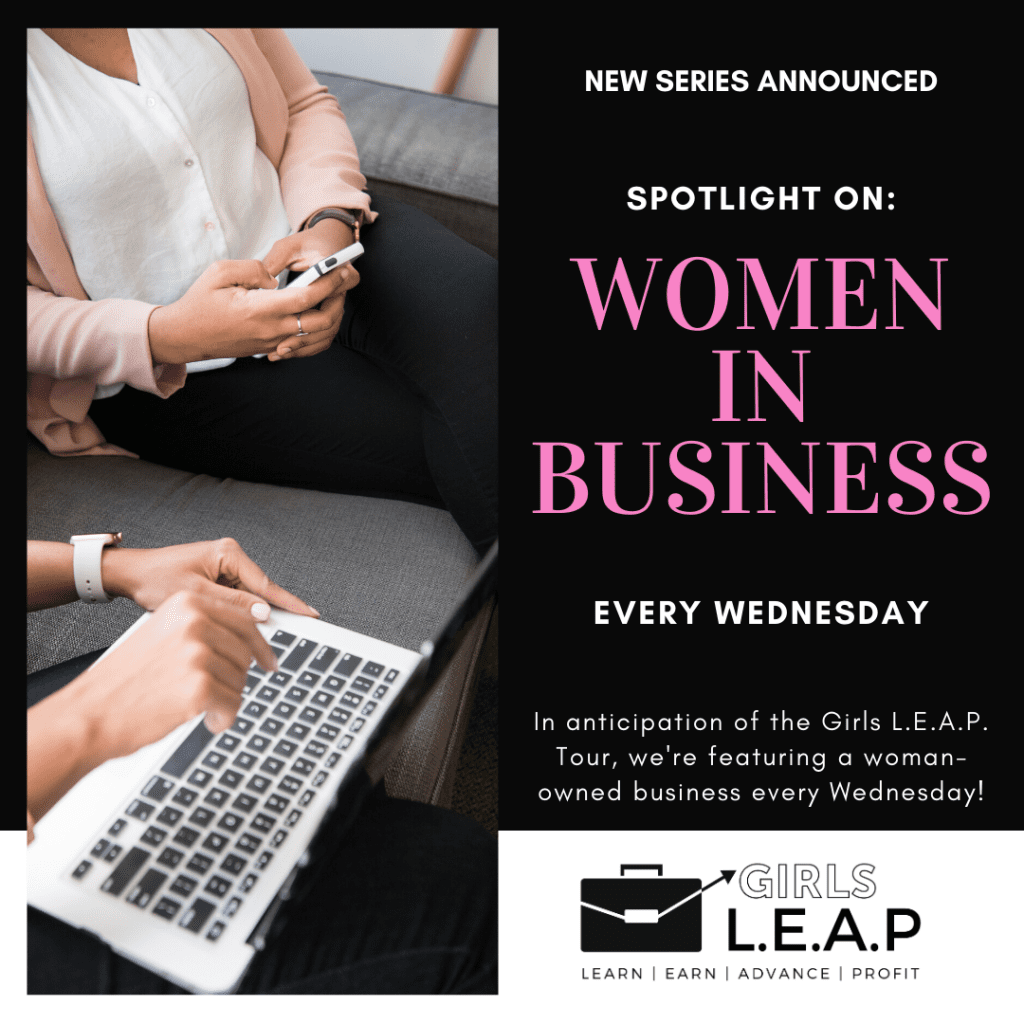 Meet Karyn Pope this week, the Burgh Boss behind Inclined Designs. Hi! I'm Karyn, the mastermind behind Inclined Designs. I have a young daughter, a husband of 8 years, and have been sewing since 1996 (I started in High School!). I have made everything from Halloween costumes to wedding dresses and currently specialize in infant accessories and hand lettered graphic design for all ages. In addition to running Inclined Designs I am a full time accountant at a local steel company. I love any kind of art and am constantly learning new techniques and medias to work with. I love designing with different fonts and my favorite projects are hands down custom orders.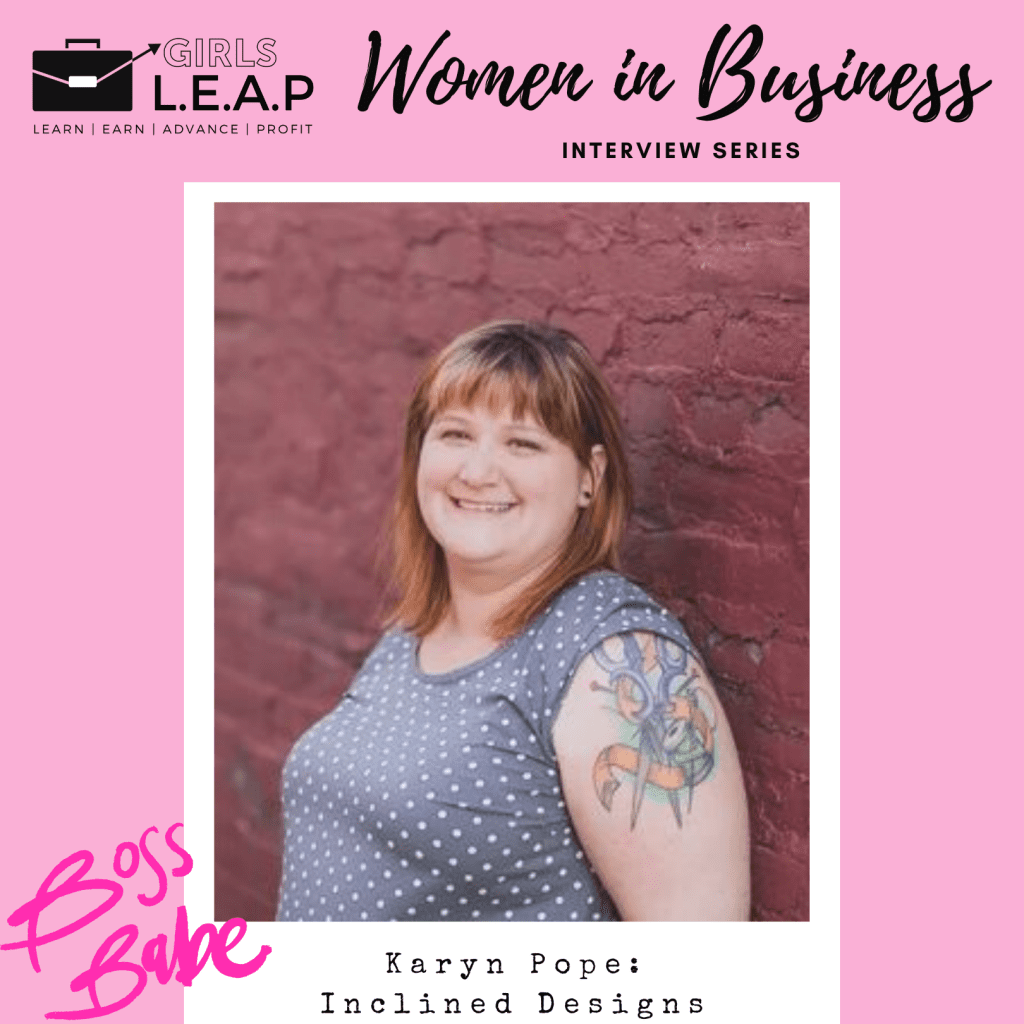 Tell us about your business.   Inclined Designs is all about punny and practical fashion. We love to make passer-bys laugh out loud when they read our tees, and we are Pittsburgh Proud, designing our own custom Pittsburgh themed fabric. We started in 2008 as Hey Baby Boutique and re-branded in 2017 as Inclined Designs. 
Why did you decide to take the LEAP to become an entrepreneur?  I absolutely love being creative and making things, and I love making other people happy with the things they buy. For me being a creative person, with my accounting knowledge was just natural to me to start a business. 
What's the best part about being your own boss? The worst? The best part of being my own boss is setting my own hours, spend a little more time with my family, etc and at the same time its the worst! When i just want to sleep in but have an order to fill, or need to run to the post office I don't get to delegate those tasks out.
What have been some of your challenges and successes in business? A challenge has definitely been getting myself back out there after re-branding. Brand recognition in the days of social media is SO important. One of the biggest successes has definitely been getting clients who love our products and are proud to carry them in their stores. 
What do you love about working in Pittsburgh? Everyone in Pittsburgh is SO nice! I grew up here, and it's something you hear a lot about, but it's true. When we're set up at Pop Up's everyone always has a story to share, or wants to tell you who they are sending their Burghy purchase to. So even when then move away they are still Pittsburghers at heart. Also there is a huge handmade community here in Pittsburgh and they are just like family. 
What are 3 skills every entrepreneur should have?  You have to be a people person, or at least be able to turn on that people person vibe when you're in business mode even if you're an introvert.  
Secondly , you have to have drive. I don't know that that is really a skill, but you have to keep going when things don't go your way. There are ups and downs and you have to go with them to succeed,
Third you should have resources and support. And not just where you can get supplies, or an occasional "you go girl". You need to surround yourself with people who believe in you, that won't get tired of hearing your ideas, and that are willing to shout your business name out into the world.