Start Living Life On Purpose
This Sisterhood is designed for any woman who finally made a decision to not only love herself but forgive, express gratitude and achieve overall peace. This community is also for any woman who wants to understand why she do what she do, why she has the habits she has and is ready to turn it around. Come meet like-minded women walking a similar path as you. You know it's time.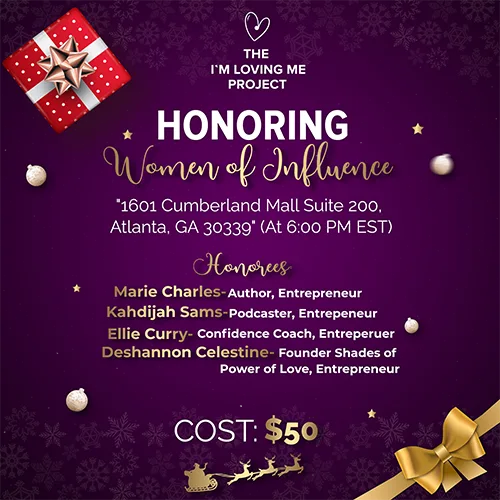 2nd Annual Winter Wonderland Holiday Gala
Join founder and CEO Gloria Ward and the I'm Loving Me Project at Cumberland Mall Suite in Atlanta Georgia as they Honor Women of Influence.
Honorees: Marie Charles- Author, Entrepreneur | Kahdijah Sams- Podcaster, Entrepreneur | Ellie Curry- Confidence Coach, Entrepreneur |Deshannon Celestine-Founder Shades of Power of Love, Entrepreneur