Our new SELF-ish Series will speak with women who have overcome difficult circumstances and came out on top. We want to emphasize that self-care isn't SELF-ish and Gloria's #1 motto is that self-worth is the golden ticket to all life mastery and success. We're hear to prove this thought method successful by single-handedly interviewing women from all corners of the world who have beat all odds, discover self-worth and are now thriving in business and life.
Coming from a dangerous relationship that almost cost her her life, to three failed businesses, a lawsuit for back rent, and nearly losing every dollar in her name, Connie Chi used her past as leverage to build a PR empire and even her own Tedx Talk.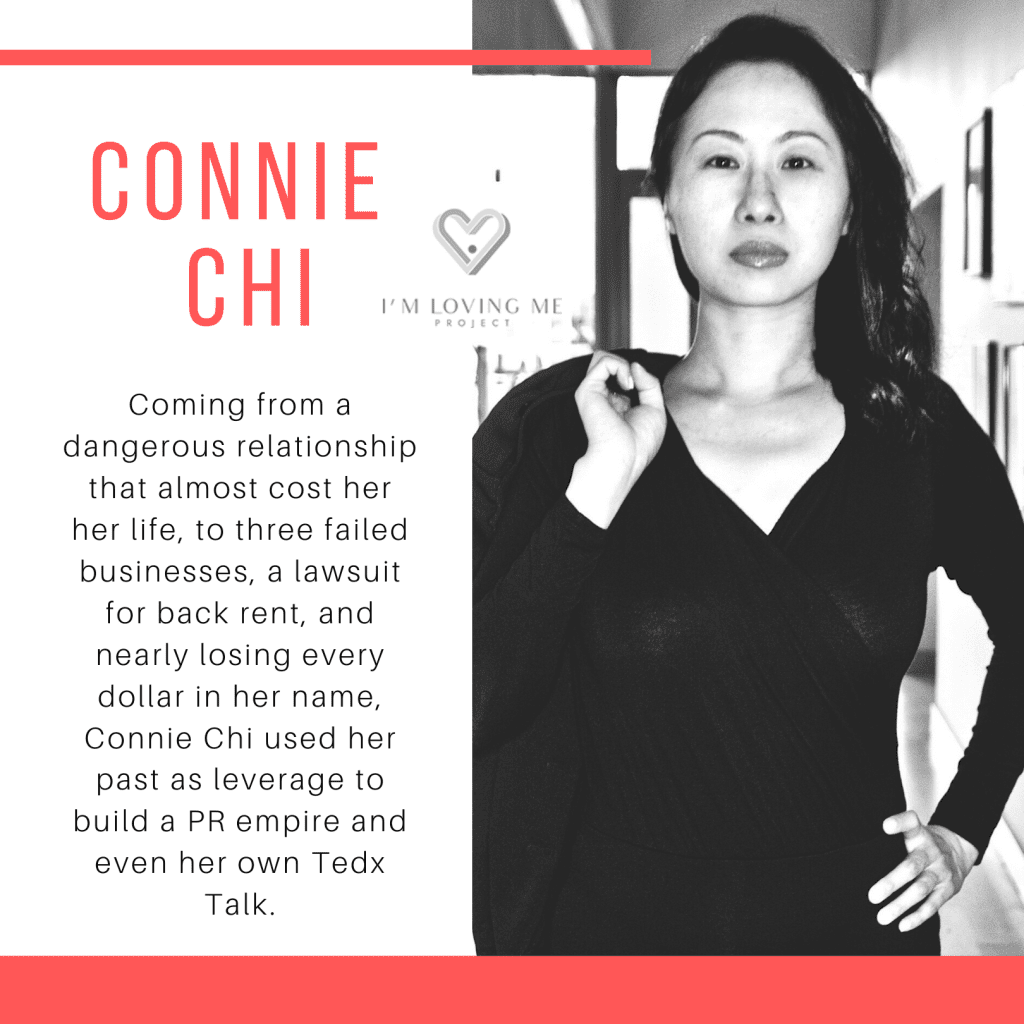 Company: https://thechigroup.co/
Instagram @_connie.chi_
LinkedIn https://www.linkedin.com/in/conniechi111

What do you see when you look in the mirror?
After going through many difficult moments in my life from being in a dangerous relationship that almost cost me my life to three failed businesses and losing every dollar to my name, I survived it all! I know this sounds cliche, but every day that I have the chance to stand in front of a mirror is a daily reminder that I've been through hell and back. So what I see in the mirror is one remarkable woman who's perfectly imperfect and never gave up on herself.
What do you do for a living?
I'm the founder of The Chi Group, a Public Relations and Brand Management Agency humanizing brands. In addition to that, I've also authored a book called, "Branding Without A Brand," and am a keynote speaker who speaks across the US about marketing, PR, and entrepreneurship.
How do you think self-love plays a role in success?
I think it's not only crucial but imperative. First, the saying is true: you have to love yourself before anyone else will love you. Secondly, if you aren't actively practicing self-love then it comes across in the work you do and lastly self-love is knowing how to set boundaries that let you hold space to recharge and come back strong. All of these things set the tone for success.
How do you think we, as women, can work together to lift each other?
This is something that's been a great debate across the world. I'm a firm believer that your word is bond, maybe because I'm cut from an old school cloth. But one of the things we can do to support each other as women is, "say what we do and do what we say." Too often I think many of us say things that sound nice or it's the right thing to say and end up not following through. How many times have we've said I'll give you a call and never do. Or let's meet up and we don't because life happens. If we courageously practiced meaningful and authentic conversations it would go a long way.
Have you had any adversities that you've had to overcome in order to achieve success?
I've had plenty, too many to count. When I first made the announcement to my family that I was going to be an entrepreneur, I think every single one of them said to me, "stick to a corporate job or you're going to fail." Yes, I failed 3 times in business but I'm still doing what I love without having to worry about office politics.
What has been your greatest accomplishment to date?
When it comes to accomplishments I've had so many that I couldn't single out just one great accomplishment. One of my dreams was to speak on a TEDx stage. I waited five years and landed a TEDx Talk, "Lonely AF: Lonely About Failure." Meeting Sir Richard Branson would have to also be one of my greatest accomplishments and biggest blooper moment with someone I highly admire as an entrepreneur. When I met Branson I was prepared to ask him a marketing-related question instead what came spilling out of my mouth was, "Richard, will you mentor me!"
What inspires you to keep growing?
Selfishly I would have to say myself. After being at the bottom, I promised myself that I will never be there again. Which means that I need to continue to learn, grow, inspire, and be able to give back to our future generation of entrepreneurs. In my free time, I mentor teen entrepreneurs who also inspire me through their creative geniuses.