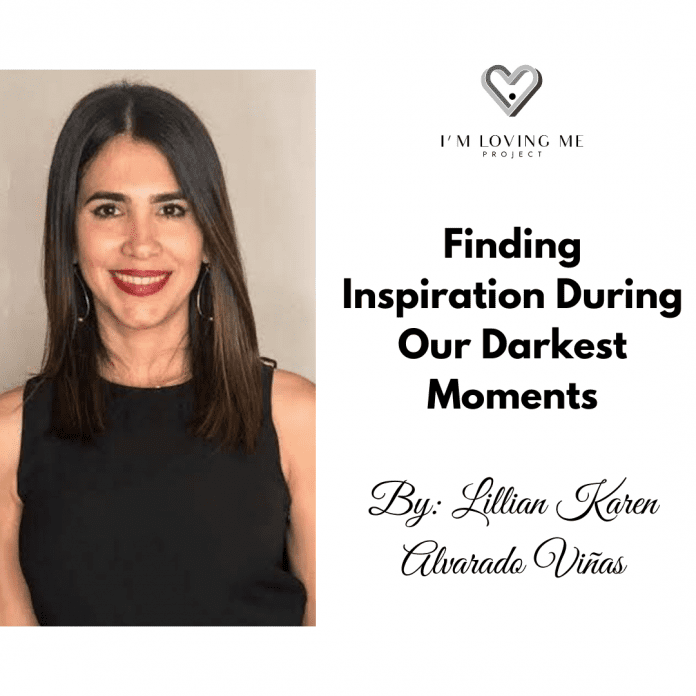 This Sunday, October 18, 2020, the I'm Loving Me Project will kickstart Pink Week 2020! It's our week dedicated to the education about Breast Cancer while highlighting the lives of warriors who survived, the doctors committed to finding a cure, and honoring those whom we have lost to the disease. Every woman has a different story. They will receive different treatments with varying reactions to side effects; however, there is a recurring theme. The #selflove blog discovered that having a positive attitude amid uncertainty is vital throughout everyone's journey.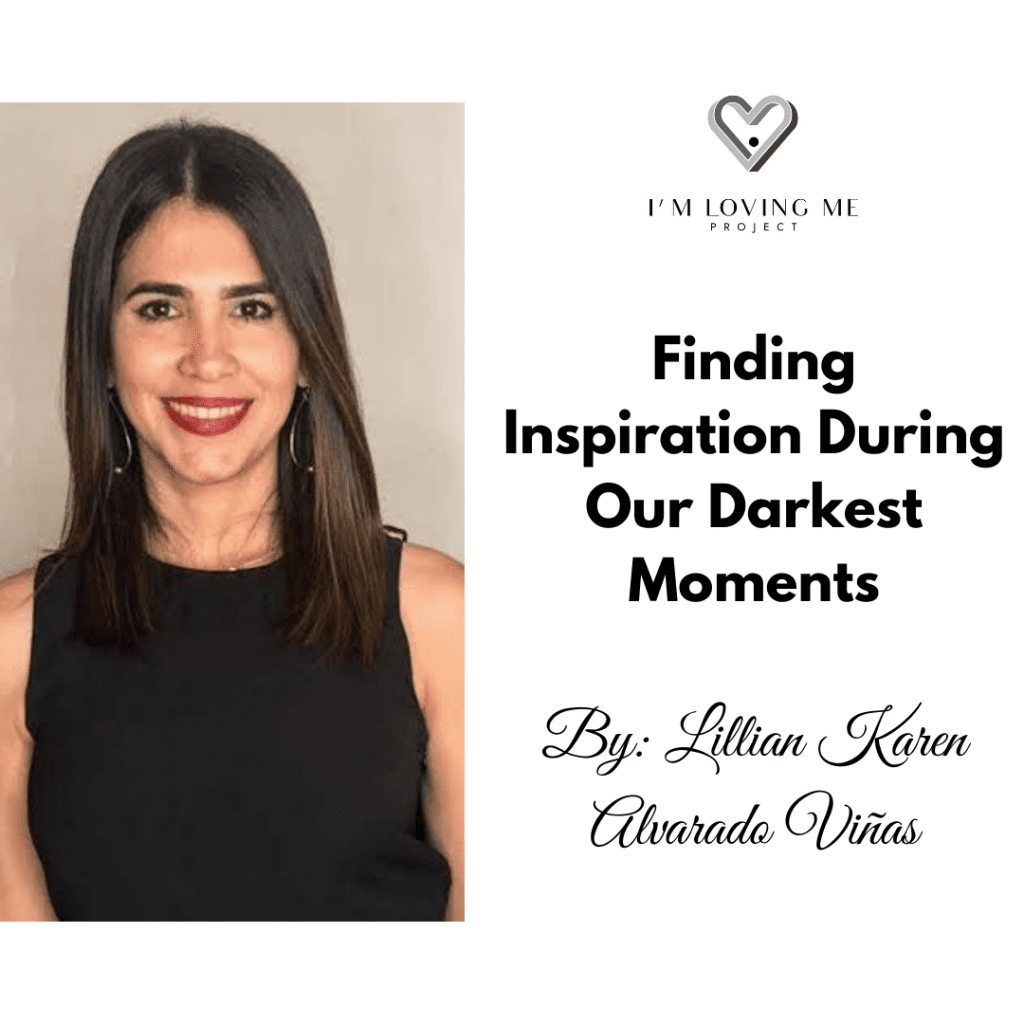 Out of all the interviews we have done on amazing warriors, all share three characteristics. They create their happiness; they believe in themselves, and they have faith. These three ingredients are the perfect combination to help them stay inspired. For a few individuals, finding inspiration resembles when a lightbulb turns on above their head. For others, inspiration comes from the daily work of following their heart and listening to their soul.
"Being surrounded by nature, not only did it raised my spirits, but also made my connection to God much stronger. I could feel His healing power, His support, and His love, which inspired me to stay optimistic during an otherwise challenging experience."

Lillian Karen Alvarado Viñas
Lillian Karen Alvarado Viñas might have had a different life if she had never decided to overcome her limiting beliefs and transform her fears into bravery, which led her to forge a commitment to her community. In her early 30's and caring for her son, she never thought she would be diagnosed with breast cancer. Now in remission, she owes her survival from the disease by finding inspiration in believing in God, her family, her community, and herself. She admits she had some difficult times due to her diagnosis; however, the way she speaks about what inspired her during her treatment is worthy of admiration. Today she shares with us five sources of inspiration that helped her battle her way to a cancer-free future:

1) Prioritize your mental, physical, and spiritual health – It goes without question; one must follow doctor's orders and treatment recommendations; however, focusing on visualizing your recovery is crucial. Lillian Karen shared that she looked for medicinal alternatives such as soursop tea, shakes to maintain a strong immune system, eat foods rich in nutrients, and rest. "I accepted and welcomed every chemo treatment because I knew having the treatment was getting me closer to getting healed. I knew I believed, and I also saw myself being healthy."

2) Search for positivity – While being treated with chemotherapy, Lillian Karen discovered she developed a new superpower, to swiftly remove herself from negative environments. She quickly learned to identify all types of negativity. As she became laser-focused on her well-being and healing, discreetly removed herself from situations or conversations that hindered her positive attitude or didn't add value to her overall physical, mental, and spiritual health. She chose to gravitate towards uplifting, grateful, and loving environments.

3) Reframe your greetings – When we are willing to overcome a limiting belief or a painful memory, we have to transform our painful experience into a lesson. It changes how we look at the world. We stop being victims of life and become masters of our present and future. With the help of her new superpower, Lillian Karen decided to reframe how she greeted others. "I decided to ask no longer, "How are you?" or "How's it been?" because it gave people an opening to start our conversation with a complaint. Instead, I would say Hello, Greetings, or Be Blessed. This way, I can begin our conversation with a positive tone."

4) Connect with God – During her interview, Lillian Karen explained that after receiving chemo, she would be on bed rest for almost a week. When she was able to get her strength back, she found inspiration by connecting with God through nature, meditation, yoga, and daily walks in the park. "Being surrounded by nature, not only did it raised my spirits, but also made my connection to God much stronger. I could feel His healing power, His support, and His love, which inspired me to stay optimistic during an otherwise challenging experience."

5) Focus on what gives you life – Throughout our lives, we will be encouraged to focus on doing one thing in order to complete a task. For example, staring at a focal point to avoid getting seasick. It was the same for Lillian Karen. Her son was eight when she was diagnosed with breast cancer. She focused on her son's well-being. She transformed her paralyzing fear and suffering into becoming a brave and purposeful woman. This helped her son feel comforted by teaching him that her diagnosis and treatment were a process and would pass. She did everything possible to reassure him that his mom will be "ok."

Inspiring other women is not new to Lillian Karen. She is the founder of MUMAS Renaciendo Corp, a non-profit organization in Hatillo, Puerto Rico. In Spanish, MUMAS is an abbreviation of Mujeres Madres, which translates to women who are mothers. The organization's primary focus is to impact women who live in the most vulnerable communities of Hatillo, Puerto Rico.
Volunteers offer mothers classes on self-esteem, sales techniques, how to make handmade products, manufacturing, and also provide on-the-job training aimed for those who want to become self-sufficient and financially help themselves and their families. The inspiration that led her to start MUMAS was her struggle with self-doubt while being a single mother and left responsible for raising her child independently. Lillian Karen believes that if other women are allowed to succeed, not only will they exceed their own expectations, but their families will benefit as well. You can find more about MUMAS Renaciendo Corp on their website or Facebook.
In honor of Lillian Karen's Spanish-speaking heritage, we have included the Spanish version of our #selflove conversation.
Como encontrar inspiración durante nuestros momentos más oscuros
Este domingo, 18 de octubre de 2020, el I'm Loving Me Project dará inicio a la Semana Rosa. Una semana dedicada a la educación sobre el cáncer de mama y destacar las vidas de aquellas guerreras que han sobrevivido, los médicos que están comprometidos en encontrar una cura y honrar la vida de aquellas de las cuales hemos perdido a causa de esta enfermedad. Cada mujer tiene una historia diferente. Ellas recibirán tratamientos diferentes que tendrán secundarios; sin embargo, entre ellas hay un tema recurrente. El blog #selflove o #amorpropio descubrió que durante la jornada llena de incertidumbre hay que mantener una actitud positiva.
De todas las increíbles guerreras que hemos entrevistado, encontramos tres características. Ellas crean su propia felicidad; ellas creen en sí mismas y ellas tienen fe. Estos tres ingredientes son la combinación perfecta para ayudarlas a mantenerse inspiradas. Para algunos, encontrar inspiración se asemeja cuando una bombilla se enciende por encima de su cabeza. Para otros, la inspiración proviene del trabajo diario de seguir su corazón y escuchar su alma.
La vida de Lillian Karen Alvarado Viñas es diferente porque ella decidió superar sus inseguridades y transformó sus miedos en valentía. Este cambio la llevó a forjar un compromiso con su comunidad. Ella nunca pensó que a sus 30 años y cuidando a su hijo, la diagnosticaron con cáncer de mama. Ahora, en estado de remisión, ella debe su sanación al encontrar inspiración por creer en Dios, su familia, su comunidad y en ella misma. Debido a su diagnóstico, ella admite que tuvo momentos; sin embargo, la manera como ella habla de lo que la inspiró durante su tratamiento es digna de admiración. Hoy comparte con nosotras cinco fuentes de inspiración que la ayudaron a llevarla a un camino libre de cáncer:
Da prioridad a tu salud mental, física y espiritual – Uno debe de seguir las instrucciones y ordenes de los médicos en relación con las recomendaciones de tratamiento; sin embargo, visualizar tu recuperación es crucial. Lillian Karen compartió que ella buscó alternativas medicinales como el té de guanábana, batidos para mantener el sistema inmunológico fuerte, comer alimentos ricos en nutrientes, y descansar. Ella nos dijo, "Yo aceptaba todos los tratamientos de quimioterapia porque sabía que eran importantes para mi sanación y me iban a curar. Yo creía que me iba a sanar y también visualizaba verme saludable."
Busca la positividad – Mientras tenía tratamientos de quimioterapia, Lillian Karen descubrió que desarrolló el poder sobrenatural de retirarse de situaciones y conversaciones negativa sin detección. Lillian Karen aprendió rápidamente a identificar todo tipo de negatividad. Como ella estaba enfocada en su sanación, ella se apartaba de temas, situaciones o conversaciones que obstaculizaban su actitud. Ella solo aceptaba ambientes edificantes y me removía de las conversaciones con mucha habilidad sin que nadie se diera cuenta.
Cambia tus saludos – Cuando estamos dispuestos a superar nuestras inseguridades o un recuerdo doloroso, tenemos que transformar nuestra dolorosa experiencia en lecciones. Hay que cambiar la forma en que miramos al mundo. Para convertirnos en dueños de nuestro presente y futuro, hay que dejar de ser víctimas de la vida. Con la ayuda de su nuevo poder sobrenatural, Lillian Karen decidió cambiar la manera en la cual ella saludaba a los demás. "Yo decidí que ya no iba a preguntar, '¿Cómo estás?' o '¿Cómo ha estado?' porque le daba a la otra persona la oportunidad para comenzar nuestra conversación con una queja sobre lo que le estaba pasando en el momento. En su lugar, empezó a decir, Hola, Saludos, o Bendiciones. De esta manera, puedo comenzar nuestra conversación con un tono positivo."
Comunicarnos con Dios – Durante su entrevista, Lillian Karen explicó que después de recibir quimioterapia, ella podía estar en reposo en cama durante casi una semana. Cuando era capaz de recuperar su fuerza, ella encontró inspiración al poder conectarse con Dios a través de la naturaleza, la meditación, el yoga y los paseos diarios por el parque. "Estar rodeado de la naturaleza, no sólo levantó mi espíritu, pero reafirmo mi fe y fortaleció relación con Dios. Yo podía sentir Su poder sanador, Su apoyo y Su amor. Esto me inspiraba a mantenerme optimista durante una experiencia tan desafiante".
Enfócate en lo que te llena de vida – A lo largo de nuestras vidas, vamos a aprender que para completar una meta hay que enfocarnos en una tarea a la vez. Lo mismo le paso a Lillian Karen. Su hijo tenía ocho años cuando la diagnosticaron con cáncer de mama. Ella se enfocó en el bienestar de su hijo. Ella se convirtió en una mujer valiente y con propósito porque transformó su miedo paralizante y sufrimiento. Este cambio en su actitud ayudó a su hijo estuviera tranquilo ya que entendía que el diagnostico de su mamá con los tratamientos eran un proceso y que pronto pasaría. Ella hizo todo lo posible para asegurarle que su mamá iba a estar bien.
No es nada nuevo que Lillian Karen sea de inspiración para otras mujeres. Ella es la fundadora de MUMAS Renaciendo Corp., una organización sin fines de lucro en Hatillo, Puerto Rico. MUMAS es una abreviatura de Mujeres Madres. El enfoque principal de la organización es crear un impacto en las mujeres que viven en las comunidades más vulnerables de Hatillo, Puerto Rico.
Los voluntarios ofrecen a las madres clases de autoestima, técnicas de ventas, cómo hacer productos hechos a mano, fabricación y también facilitan la capacitación a aquellas mujeres madres que deseen ser autosuficientes y ayudar económicamente a sí mismos y a sus familias. La inspiración que la llevó a iniciar MUMAS fue su lucha con la duda en sí misma mientras era madre soltera y tenía la responsabilidad de cuidar por el porvenir de su hijo independiente. La filosofía de Lillian Karen es que, si a las mujeres madres le dan la oportunidad de tener éxito, no solo superarán sus expectativas, sino que sus familias también se beneficiarán de su superación. Puedes encontrar más información sobre MUMAS Renaciendo Corp. en su sitio web o Facebook..