Sharita Humphrey spent many nights sleeping on an air mattress on a floor in an empty apartment with her two children. Overcoming so many hardships, including homelessness, Sharita hit a rock bottom in her life and was since determined to succeed. She found an apartment by luck alone and told the leasing agent that thirty days was all she needed to be in a better financial position. She was right. She tells us, "I did all of this with two kids, no job and no additional help. I was determined to change the trajectory of my life. I knew that I couldn't let my two children see me fail."
She went from sleeping on the floor with two children to just last year being featured in Forbes as one of the fastest growing businesses in 2018. She obtained a government job 30 days later just like she told the leasing agent she would. Her government position was a stepping stone because she now runs her own financial education and consulting business to help others change their personal and business financial futures.
She wants to continue to inspire other women across the globe to not let history determine your destiny. Read her inspiring interview: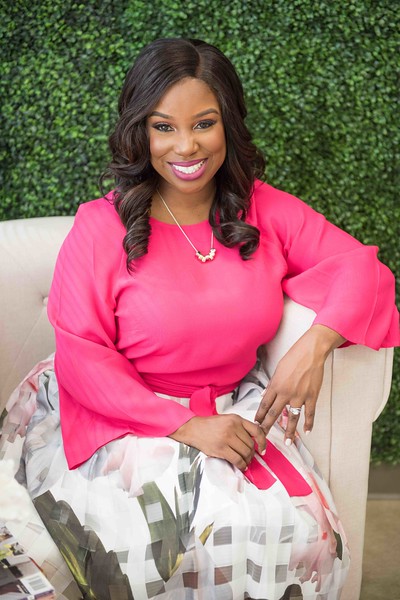 What do you see when you look in the mirror?
When I look in the mirror I see a beautiful woman of strength with many stripes. The stripes are beautiful reminders of the determination that it took for me to overcome so many life challenges. I see a humble and fierce woman with a heart of gold staring back at me when I look in the mirror. I'm proud of the woman that I see in the mirror and I let her know daily that God didn't make any mistakes when creating me.
Tell us about your business ventures?
I'm a certified financial educator, coach, and speaker. I teach the middle-class and small business community on the importance of financial responsibility and wellness. By doing so, my clients can build positive personal and business credit, eliminate debt, increase their annual savings and scale their respective businesses. I create financial capability systems, that include webinars, live training, and personalized coaching programs to help assist my clients through the process so that they can maintain positive financial behaviors for a lifetime. I also work with micro-lenders, brokers and banking institutions to help reduce their loan default rates and educate their clients on how to manage their business and personal finances.
Any big projects coming in the future?
I have a few big projects that will roll out in the very near future. So many people who follow me want to get to know about how I got to where I am now. I will be filming an in-depth trilogy to allow others to see that my humble beginnings shaped who I am today. I'm also currently working on my first book, my upcoming podcast and in late 2020 I will host my own money and life mini-tour. I'm super excited and looking forward to connecting with some amazing people across the country in the coming months and year based on the projects I'm currently working on.
What do you most love about what you do?
What I love most about what I do is that I'm helping to change my clients' relationship and behaviors surrounding money. The smallest financial win helps to change the financial trajectory of my clients' lives for generations to come. I love to be able to be my clients' coach and mentor along their journey. It's so rewarding to see my clients build their dream home, start a new business or to create an abundant financial portfolio that will leave a legacy for generations to come.
Where do you see yourself in 10 years?
In ten years I will be a multi-seven figure global financial education firm and personality that partners with large corporations, media, the sports industry, banking institutions, and nonprofits. I will be traveling and living across the globe helping other women in business reach their desired level of success via my global business academy. In ten years, I will also be completely in FIRE mode. I'm a huge fan of the FIRE movement(Financially Independent Retired Early) because your life is meant to be spent doing the things you love and making an impact. My big goal in ten years is that I help 100,000 women and their families break the generational chain of debt which keeps many of us from living our true purpose. Its a big goal but nothing is too big for a woman with a made-up mind.
Do you have any tips for women in business?
I have a couple of tips for women in business. The first tip that I would share is to ensure that you're handling your personal finances just as efficiently as you do in your business finances. Building and maintaining positive credit is crucial especially if you want to leverage where you are and where you desire to be. So many businesses are denied loans, lines of credit and even credit cards because of their personal credit. If you're looking for a great way to build your credit, be sure to check out Self Lender.
If you're just starting in business, you don't need to spend hundreds or thousands of dollars on a website, software or business cards. As your business grows, then gradually upgrade certain aspects of your branding. The most valuable thing a woman in business can do is invest in yourself. NAV.com is a great business resource platform and I highly recommend that you sign up for your free account.
Investing in yourself will pay itself forward over and over again. Joining organizations like your local chamber of commerce, SCORE.org, the right business mastermind group or even Toastmasters can not only expand your skillset but also add quality contacts to your Rolodex.
Last but not least, I encourage women in business to read these three books: Gary Keller's One Thing, Hal Elrod's Miracle Morning and Mike Michalowicz's Profit First. These three books really well help to elevate your personal and business mindset and give a deeper look into being successful in every area of your life.
How do you hope to empower women or is there an imprint you'd like to leave?
I hope to empower women through my journey. I'm a woman who went from sleeping on the floor with two children years ago to being featured in Forbes as one of the fastest-growing businesses in 2018. I want my story to be the seed of motivation and inspiration that gives women hope that things will get better sooner than they think. My imprint that I will leave will be the message that I share with every woman that I encounter the message is this, where you are is not your destiny its a process to get to your purpose. As long as you remember the promise of purpose, you will understand and appreciate the process no matter how tough or lonely it may get at times.
What do you think your ultimate purpose in life is?
My ultimate purpose in life is to teach women globally about the importance of financial wellness, living a life of peace and helping them to identify their purpose. Helping women is truly my gift and I love to see others change their lives. God truly gave me the career of my dreams and this is just the beginning.
How do you think we, together, can help women gain confidence and reach their fullest potential?
One way we can work together to help women gain confidence and reach their fullest potential is by sharing our truths. Social media is a great resource but it can also fill you with so much self-doubt because everything looks so perfect. We have to remind one another your greatest superpower is loving the skin that you're in and that you don't have to conform to trends or compete with one another. A real sisterhood helps each one us of to feel beautiful, strong and confident. That's why it's important to reach out to another woman and just support her and give some great advice that will uplift her. We have the power to push each other into our greatest potential just by sharing valuable information, by being a resource but most importantly a sister.