Standing for self-love, Katrina used her voice and her inner confidence to fuel her success. Starting her first business at 22, she's faced numerous adversities but stuck with the dream and now wants to mentor youth in striving for success. She is the owner of The Highsmith Group and is an example to always stick with what you've started. Read her interview this week: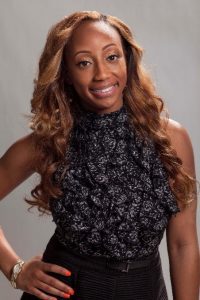 What do you see when you look in the mirror?
When I look in the mirror I see an un-apologetically strong confident woman who does not live in fear and takes risk.
What do you do for a living?
I am the Founder and Senior Brand Strategist at The Highsmith Group. The Highsmith Group is a is a versatile public relations and marketing agency specializing in media relations, event management and brand development for Fashion, Non-profit, and Lifestyle brands.
How do you think self-love plays a role in success?
There is an old saying by Alexander Hamilton, "If you don't stand for something, you will fall for anything." As a self-love advocate, I believe you have to truly know and love yourself before you can lead others. Success derives from an internal source as no one can measure another persons level of success. I also believe you will make the right decisions for yourself when you put yourself first as you will attract better deals, better partnerships, better employees, better colleagues. When you treat yourself best, everything else will fall into place in due time.
How do you think we as women can work together to uplift each other?
I believe we as women can work together to uplift each other by realizing we are not a threat to one another first and foremost but indeed an asset. Society seems to have set this standard that women can't work together and everything is a competition. I believe if we utilize each other as a resource, mentor and coach one another we will realize how much of an advantage it is to work together.
Have you had any advertises that you've had to overcome in order to achieve success?
Yes, I have overcome advertises in order to achieve success. When I started my firm at only 22 years old my partner and I faced a lot of challenges: financial, time management and lack of business experience. The best thing we could have done is gain a mentor in various industries of business to help navigate and create our business module.
What has been your greatest accomplishment to date?
My greatest accomplishment to date would be starting my own Public Relations & Marketing company. First I had a joint venture with my business partner, Kristen Hopkins, and then transitioned into The Highsmith Group.
What inspires you to keep growing?
What inspires me to keep growing is the evolution of social norms within society. I love mentoring and volunteering with youth organizations and believe I can make my mark on the world by giving back to young people in efforts to help them stay on a path of positive growth. It is important to instill self love and self esteem within them. That is indeed a passion of mine.