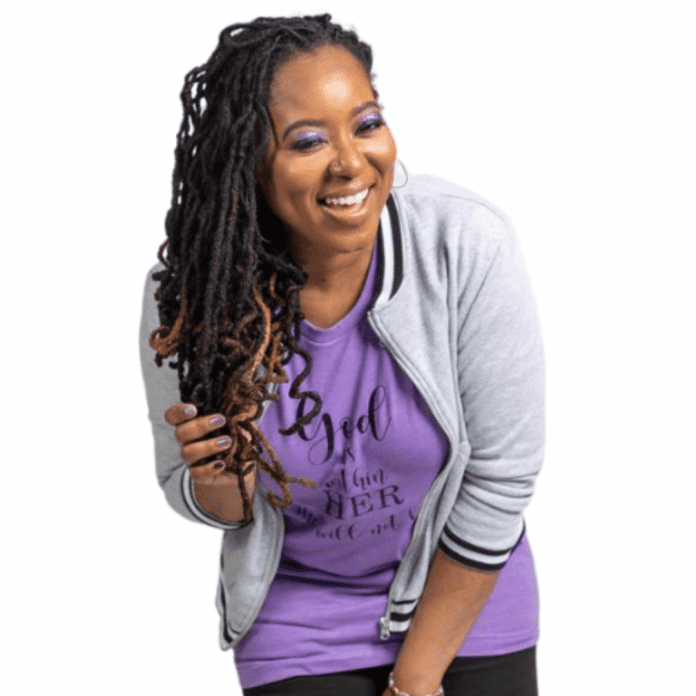 I am an International Bestselling Author, Speaker, and Entrepreneur. As a sexual assault survivor, I share my evolutionary journey to inspire millennial women in breaking glass ceilings by transforming their pain into power and rediscover who they are beyond their trauma. Recognizably known as Tasha W: Messenger of Hope™, I help millennial women unlock the treasure within, confront pitfalls from the past, and explore the power of fearlessness. As an author, I serve as a sounding board for those who feel silenced. As a coach, I empower millennial women to get unstuck by embracing the greatness within and start living outside of survival mode. As a speaker, I help my target audience discover who they are, explore their passion, and pursue purpose.
So how do we get unstuck? What can all women learn from survivors?
It starts with how we view ourselves and how we speak to ourselves. Ultimately asking the question "How am I going to show up for myself today?" Transformation begins in our mind. Making the decision to confront the roadblocks that have shaped your identity and doing the intentional inner work to learn the core of who you are. Affirmative language is very important. Implementing positive self-talk constantly until it no longer feels awkward. Progression over perfection is something all women can learn from survivors. Honor the value of your experiences and give yourself permission to evolve. Set goals that are meaningful and align with your ability to live the courageous, fulfilling life you were always destined to have.
Please know that your healing journey is not linear. Extend kindness to yourself. Give yourself grace. Understand that your experience is not your identity. Your life has purpose. Affirm and discover the treasure that is within. You matter! You are a champion!
I've always felt like I had to measure up because I could not fully release myself from everything that happened in my past. I became my worst enemy. I talked myself out of opportunities and entertained dead-end relationships. I felt like I had to accept the bare minimum because I considered myself to be damaged goods.
Once I made the decision to stop feeding my fears and start living in freedom, I recognized the greatness within and ignited the value of my voice. I overcame self-sabotage behavior and negative self-talk by addressing unresolved trauma. In embracing the power of leaning into my authentic self, I empower others to see the importance of destroying boxes of captivity.
I learned how to ignite the value of my voice and to genuinely love me beyond the surface. I recognized that the pain I endured was not punishment. In hindsight, it was preparation for me to discover my purpose. As a result of mastering my inner critic and no longer carrying the shame of my history, I empower millennial women to rise from a place of pain into a posture of promise. Being a lighthouse gives me the opportunity to be a catalyst of change for those seeking support on how to destroy boxes of imprisonment. I have five books under my belt (4 solo projects and 1 anthology). I have been featured on podcasts and speaking engagements across the United States, New Zealand, and Australia. In 2015, I founded the Royalty Refined Movement, a community network that fosters sisterhood centered around self-discovery, personal development, and freedom. In 2016, my innovation and passion for women empowerment and grassroots earned recognition at the 100 Ladies of Elegance Gala. There I received the Governor's Volunteer Service Certificate of Appreciation signed by Governor Larry Hogan. In 2018, I joined the Rape, Abuse, and Incest National Network (RAINN) Speakers Bureau to promote advocacy and awareness of sexual violence nationwide. In 2019, my third book "Recognize Your Opponent: When Your Greatest Enemy is Your Inner Me" was introduced on the campus of Johnson C. Smith University as a university-wide facilitation tool to address imposter syndrome. I am most proud of my ability to not compromise who I am and what I bring to the table. Also, recognizing that what I offer to the world extends beyond myself. What sets me apart is that I am intentional in how I show up for myself and how I show up for others. I do not do anything for personal gain, recognition, or applause. I genuinely want to see millennial women win! As an introvert who operates in extroverted spaces, I am forever grateful to be used in this capacity. My YES to entrepreneurship became a springboard for others to say YES to freedom, emotional wellness, and hope.
Find Tasha on Instagram, Facebook, and Amazon, as well on on her website, www.lifewithtashaw.com