Tahanee Sayyid is an Author, Relationship Columnist, and multi-passionate creative woman who offers women logical resolutions, methods, and suggestions to accomplish a positive outcome in their relationship. As Black History Month comes to a close, Tahanee spoke to us about her book, "Lust Now, Cry Later", and what Black History Month means to her
Tell us about yourself and your background. How did you get to where you are today?
"I am the eldest of four girls. I started reading at the age of four and wrote my very first poem at the age of sixteen. I began my journey of writing after the sudden death of my cousin, Shony. She and I were extremely close! She passed away at the age of nineteen in her sleep; I was sixteen. My first poem was dedicated to her, and it was not only the best piece I've ever written, but it was also very therapeutic."
You're still writing, and have become a 5 – star Amazon Author. Tell us about your book "Lust Now, Cry Later". What was your 'why' in writing this book?
I wanted to tell a different kind of story. I wanted to change the narrative that people have about Black Americans. The prejudices that surrounded us and the false pretense that every black person comes from a neighborhood that is saturated with "Sex, money, drugs, and crime," and that simply isn't true! I had to speak on this because I didn't like the image that was being portrayed and the fact that so many authors' stories only supported the above. It was time for me to educate readers and bring awareness to some of the sensitive topics in life, like HIV, mental illness, child abuse, drug addiction and so much more! Why? Well because these are the things we are forced to ignore and to accept as a negative reflection of our own doing, leaving us left to make decisions that only produce turmoil, cause despair, and survive on toxicity.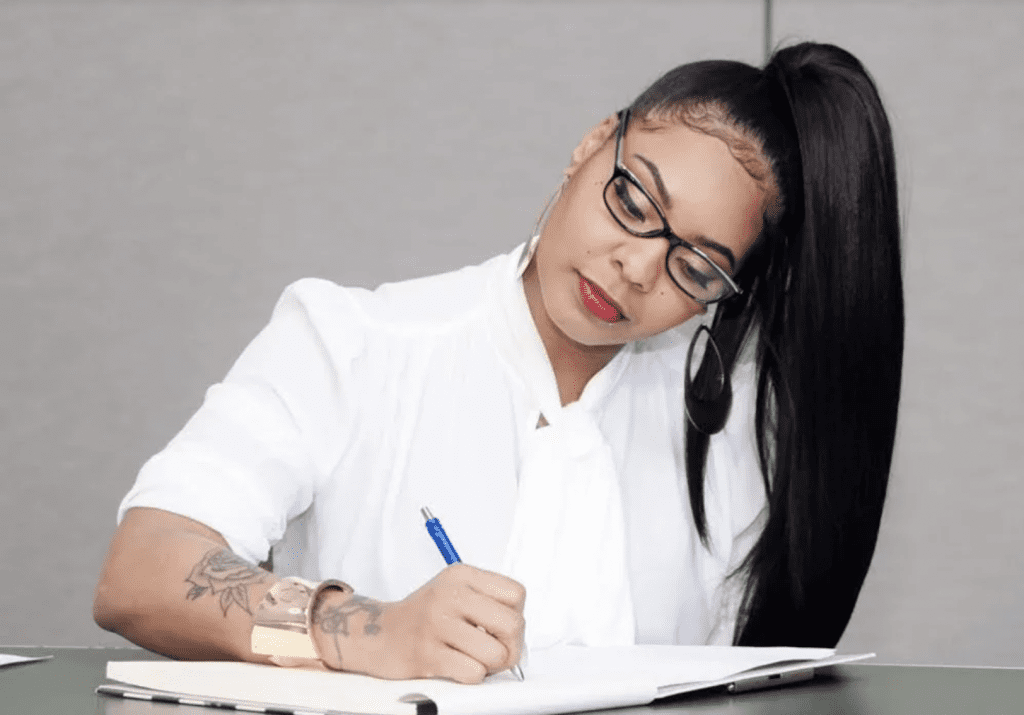 What does Black History Month mean to you?
Although Black History Month comes once a year, and its importance holds historical and sentimental value, it represents something deeper! It represents wisdom, self-awareness, gratitude, and persistence. But to appreciate the past and the role it played in shaping our future, we must first understand that Black History begins in the home and that positive responses and healthy reinforcement of "Love and self-acceptance" are both imperative when it comes to breaking the cycle of generational trauma caused by fear and lack of knowledge.
Do you think the world, and society at large, are doing enough to highlight the successes, ideas, creations, experiences, and histories of Black people? Where do we go from here? What does the future look like to you?
I don't think gratitude can truly be shown for the greatness our ancestors left behind, because so many people lack awareness and appreciation for themselves. And even though we use these magnificent creations every day, it still isn't enough for us to take a second out of our busy day to show gratitude. Our privileged attitude won't allow us to do so. We can only move forward from here with our only mission being to "Seek knowledge in self."
Why is it important for Black people to work together for a holistic liberation? How do we light the way for more love, unity, awareness, and peace?
We light the way for more love, unity, awareness, and peace by creating more support groups and platforms that teach individuals how to find inner peace by embracing the tough and painful situations we try so hard to bury and forget.
Can you tell us about a life-defining moment that you felt was instrumental to your growth as a woman?
My life-defining moment of womanhood occurred when I started to seek the true meaning of self. I know you hear people say that a lot, but when you find out how life really works and the power you truly possess, you will then understand that in order to embrace womanhood, you must first face, "Spirit," because "Spirit" is everything!
Get Tahanee's debut novel, Lust Now, Cry Later on Amazon or Tahanee.org.
Follow Tahanee on Instagram here.