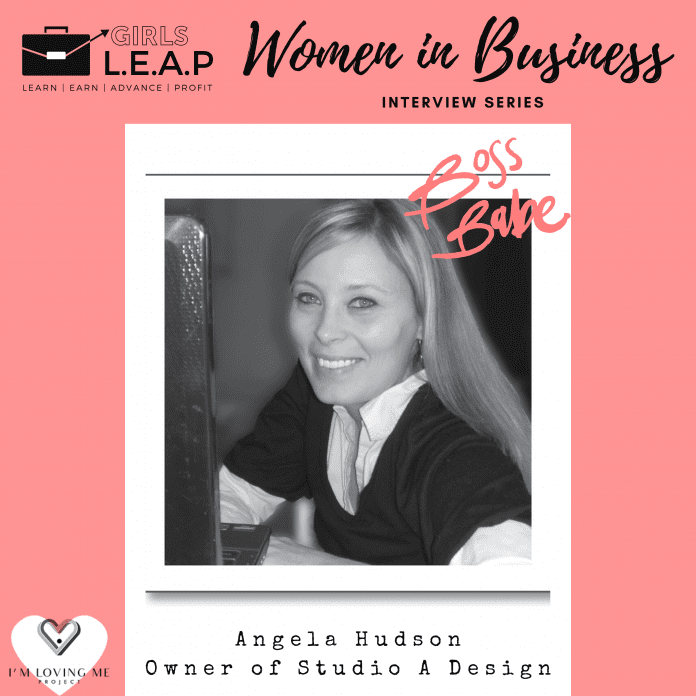 Busting at the seams with talent, a keen eye for art, and a love for the world, Angela Hudson is one artist that helps change and mold humanity one creation at a time. Angela is well known inside and outside of Fort Wayne, Indiana for enriching the lives of others through her creativity. In 2018, her exhibit "Beauty from Brokenness" helped bring awareness to the high rate of sexual assault suffered on the women in the Democratic Republic of Congo. With her business Studio A Design, she has become the go-to person for many, from independent artists to colleges. Angela shared with us a little bit about how she built a successful business and trusted reputation:
"I've loved art for as long as I can remember. It was my passion growing up and what I pursued in college. Born and raised in Fort Wayne, Indiana, I received a Bachelor of Arts degree from Saint Francis College in commercial and fine art (with a minor in English) and a Master of Arts degree in fine art from the University of Saint Francis.
Before starting Studio A Design, I worked in the graphic design and marketing industry at a local college for over 12 years. I designed all print pieces as well as wrote and edited copy, collaborated on the overall strategic marketing plan, planned and hosted events, shot event photography, and much more.
Since that time, I have done a variety of graphic design and marketing work for local non-profits, independent artists, government agencies, financial firms, colleges, churches, radio stations, and real estate investors to name just a few. When all is said and done, I have been honing my skills as a designer for over 20 years and received Gold and Silver Honors from the Advertising Federation of Fort Wayne.
I accepted the opportunity to complete the Young Leaders of Northeast Indiana's Leadership Institute and the Leadership Fort Wayne program in our community. I have been extremely blessed to have received numerous awards and accolades in my profession including Gold and Silver Medallion Awards for the National Council for Marketing and Public Relations."
Tell us about your business.
Studio A Design is a small, independent graphic design and marketing business that I started in 2012. Being an owner-operated firm allows me to work directly with my clients, which eliminates some of the guesswork between client need and final output. I provide a variety of services including graphic design, marketing planning, branding, event planning and management, event photography, and others. I am blessed to be able to work with a variety of different clients, serving financial institutions, multiple colleges and sports teams, churches, radio stations, realtors, independent artists, authors, small business owners, and more.
Why did you decide to take the LEAP to become an entrepreneur?
I worked in my field for 12 years at a local college doing many of the things I do now. I gained some great experience at that job, preparing me for this venture. I left that job when my grandmother who helped raise me was placed on hospice. I was blessed to be able to care for her during the last few months of her life as well as finalize her estate. Balancing these responsibilities, along with a full-time job and raising my young family, helped me decide that I did not want to go back to the traditional job setting – 8 to 5 p.m. every day, sitting in the same office and designing for the same client repeatedly. That is when I decided to start Studio A Design! It was a ton of work, and I learned so much along the way – from figuring out how to incorporate my business and register it with the State to establish a client base, to accounting and invoicing, and all of the little details that go along with the process. It was one of the more difficult things I have done in my life, but it is something I am forever grateful for accomplishing.
What's the best part about being your own boss? The worst?
The best parts of my job still stem from the reason I created it – FLEXIBILITY and VARIETY. My husband and I have two children and are a busy family. Being my own boss allows me flexibility in the hours I work. I know deadlines and operate by them daily, but I am able to work through an evening to finish a project in order to attend a football or soccer game with my kids. I can also decide if I want to work in my office near downtown, in my home, at a client location, at a coffee shop or on the beach! This benefit has been huge in my life, and I feel extremely blessed. And variety, well, I am creative….
I like new things, working with all kinds of people, being able to serve in many capacities and especially designing and creating in multiple formats for many clients. Being a small business, I am also afforded the opportunity to provide professional design and marketing services to small start-ups, non-profits, sole proprietors, and independent artists for a fraction of the cost of larger agencies.
The worst part of my job would have to be all of the "business" parts – ha! I love designing and being creative and providing outstanding service. I don't so much like invoicing and balancing books or doing sales calls, etc. I do those things regularly, but they are just not my favorite parts. Working independently also has some disadvantages. I have a network of people, both in and outside my field, that I go to with questions. It requires an email or a phone call and sometimes not an immediate answer. That part is just different than in a traditional job setting where I might simply walk down the hall to gather another opinion or an extra set of eyes on something. Still pros outweigh cons for me!
What have been some of your challenges and successes in business?
Initially, developing my client base was a challenge. I used many resources, cold calling, and meetings to establish a core group of clients. I much prefer designing to sales! Another challenge has been marketing myself. I am often so busy working for my clients that I don't always dedicate the appropriate amount of time to continued marketing for the business. Luckily, word of mouth advertising has helped with client growth for Studio A Design. Successes – I have been blessed to achieve several different awards in my field (some listed in bio), but the greatest successes for me are when I am able to produce a final product that a client is just thrilled with. It is super exciting to see a new business owner receive a large scale logo on their first shop front, celebrate with a new author when I have helped provide book cover art, or watch business grow for a client when we have implemented a great marketing plan. The little successes mean more than accolades to me.
What do you love about working in your city?
I was born and raised in Fort Wayne and have made it my home with my husband and children. Our city affords many of the opportunities and venues of a larger city, but the cost of living reflects that of those much smaller. We have all kinds of sports teams, church cultures, diversity, school options, college choices, and a growing focus on the arts, which I love. Opportunities for new clients are plentiful.
What are 3 skills every entrepreneur should have?
Passion. Drive. Adaptability.
Passion – Don't start a business just to make a buck. Make sure you have a passion for what you are doing or who you are serving. This allows you to love your job and will help you to overlook the MANY things that aren't always the enjoyable parts of starting a business.
Drive – You will hear the word "no" way more than you like. Don't accept it. Keep pushing even when it seems like every road is a dead end.
Adaptability – Be flexible. Things don't always go as planned – and that's ok. Many of the greatest successes start out as a result of a mistake.