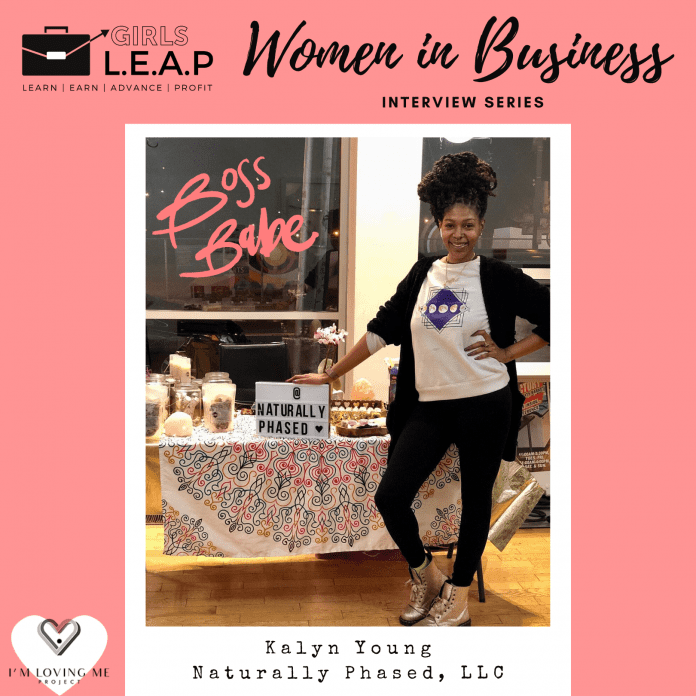 Handmade with LOVE in Washington, DC by DC native Kalyn Young, Naturally Phased LLC was born.
Growing up with sensitive skin and being allergic to nickel and trying to go through middle and high school with constant migraines, Kalyn started resorting to a more holistic lifestyle. From food to oils to herbs she found comfort.
In 2012 she birthed a beautiful sensitive, eczema prone baby girl. Finding out the hard way, dealing with rashes and late crying nights (baby and Kalyn) she had to resort again to natural foods, herbs and oils.
Moving into anew space and dealing with different water pressure her daughters skin started to change and irritate her. Just about time the whole bath bomb craze popped. With research she created a bath bomb for her daughter's skin and for her migraines/stress.
SmoothMe and RelieveMe bombs were born.
Living holistically. Making products come about as they were needed for personal use in her own life.
1.)    Tell us about your business.
Naturally Phased is a home-based Restorative Holistic Wellness black owned business. Our mission is to Balancing Energy Naturally through Bath, Body & Mind. 

2.)    Why did you decide to take the LEAP to become an entrepreneur?
In 2012, I birthed a beautiful baby girl who showed me what true sensitive skin and eczema was. Her skin was so sensitive we stayed inside the first 6 months because every brand of diapers broke her out and I was scared to leave the house and deal with accidents. My grandma and mom finally told me I probably have to make my own paste / oil for her and I did. As my daughter grew. Products grew. 

3.)    What's the best part about being your own boss? The worst?
Best part is truly crafting my products for each order and pop-up, and being able to include my daughter in the process of production and sales as I bring her to events and pop-ups. Worst side fumbling through money figuring out what works and what doesn't. 

4.)    What have been some of your challenges and successes in business?
Some of my challenges in the business have been finding cheaper sources for materials, going live on social media and overall marketing. Some of my successes have been starting/running SelfCare Saturday/Sunday Pop UP Shop events to help promote small businesses in the name of self-care, partnering with other brands/businesses in the DMV area to bring the pop up shop culture to their space. Getting my first store placement within the first yearr of business and honestly seeing my growth by authentically being me is a pure success in my POV. 

5.)    What do you love about working in your city?
There is ALWAYS some networking event in DC! You might have to be invited secretly or know the know to get the really good ones but there are always an option! 

6.)    What are 3 skills every entrepreneur should have?
Self Motivation, Time Management and The Power To See The Vision Through.