Have you ever wondered what those first few years in business are really like? This week, Maddy Hoffman is taking over our Women in Business series to tell you what it's really like being a #girlboss. Plus, this mother-daughter business duo will get you inspired to start a biz with your mom this Mother's Day! Meet Maddy:
"I'm Maddy, the co-founder and creative designer behind The Bellie Brand. My mom and I started The Bellie Brand in 2017 and have worked hard to turn our creative passion into a retail business. I had a passion for art and design at a very young age. By the time I was fifteen years old, I had purchased my first camera, started to transform my pencil doodles into artwork, and began experimenting with graphic design. I studied visual design in college and focused on creating art and experimenting with my creativity. I graduated with a passion. Always looking to transform that passion into a career, I started The Bellie Brand. Every move I've made throughout the years has led me here, to owning my own business and following my creative passions each and every day. I'm now twenty-four years old, a #girlboss, and a proud momma to Eloise, my one year old English Bulldog and the inspiration behind my online boutique. While I was creating my art thesis and finishing my senior year of college, Eloise, otherwise known as Bellie, joined my life and became the reason I wanted to start The Bellie Brand and turn my passions into a career. Not only is she a great model for the boutique, but she also inspires me to jump out of my comfort zone and start something I can truly be proud of.
The Bellie Brand combines individualism, creativity, and style to provide unique designs on high quality tees. Create your own style and share what you wear with #thebelliebrand on Instagram. You could be featured on our Instagram page @thebelliebrand! Feel free to reach out to us with questions, comments, or just to say hello! We'd love to hear from you. Contact: thebelliebrand@gmail.com / 412-605-7646″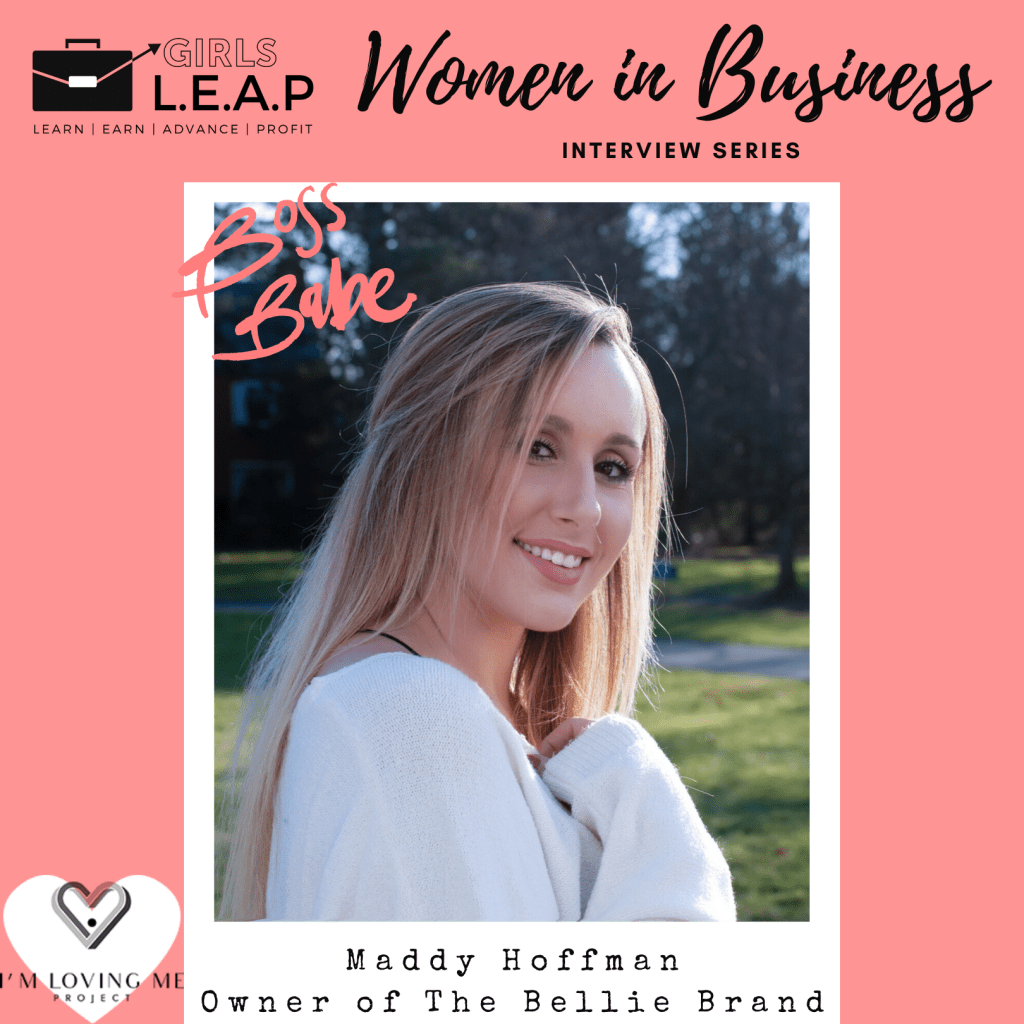 1.)     Tell us about your business.
The Bellie Brand is an online boutique and pop-up shop in the Pittsburgh area featuring unique saying on a large collection of products. Our store is always growing, currently including coffee mugs, t-shirts and hoodies, stickers, hats, jewelry, tumblers, and shot glasses. 

2.)     Why did you decide to take the LEAP to become an entrepreneur?
I've always had an artistic mindset and strived to showcase my creative abilities through design. I learned a lot in the corporate world, growing my business skills and seeing retail design from a large scale, but I always knew I wanted to take the leap and pursue my own brand. The ability to turn a vision into a full collection of merchandise is an incredibly rewarding experience. 

3.)     What's the best part about being your own boss? The worst?
The best part about being my own boss is the ability to work from home, in my comfy clothes, with no makeup on. I can have productive days without wearing heels and sitting in a conference room. I set my own hours, take time for myself when needed, and have the ability to block out the rest of the world and work at my own pace in my ideal work environment. The worst part about being my own boss is the fact that I don't work with anyone! Sure, it's nice to have creative control and have a brand you can be proud of and call your own, but it can get lonely. Working from home everyday isn't always easy. I don't get to bounce ideas off of other people or communicate with a lot of people throughout the day, making it super important to be self motivated and hard working.

4.)     What have been some of your challenges and successes in business?
It's hard being a small business owner and competing against large retailers. It's easy to feel like you're not going to succeed or be able to stand out. Pushing yourself to not give up is a challenge. I work hard everyday, sometimes without recognition that the hard work I'm putting in is paying off. I challenge myself everyday to continue on this journey as a small business owner. I have learned to take every small victory as a success and acknowledge that every single thing I do is helping me get closer and closer to reaching my goals and being successful.

5.)     What do you love about working in Pittsburgh?
Pittsburgh has such an amazing network of women in business! We are so grateful to live in a city with so many female-owned companies, women empowerment organizations, and networking events. The Pittsburgh community wants us to succeed and I love the ability to support others and be supported as an entrepreneur in this city.

6.)     What are 3 skills every entrepreneur should have?
As an entrepreneur, you need to have great communication skills, time-management skills, and be hardworking. Networking is your best friend. You need to communicate with your target audience and potential customers through in-person events and social media as much as possible. If you aren't working hard and managing your time well, you won't succeed working from home and you won't succeed running a small business competing against large retailers. Being an entrepreneur is hard work, but I believe it is totally worth it.