New Orleans native and Dallas-Fort Worth resident, LaRussia Peters made her way into the hair industry over 18 years ago. Her mother recalls her as always being a service to others. Following the catastrophic storm in Katrina, LaRussia's family found Texas as their new home. Upon graduation from Ogle Beauty school, She found her calling in the Beauty industry specializing in Hairstyling. Ever since, she has been developing and advancing her craft. From humble beginnings doing hair at home to opening her own Salon after 7 years, LNP Haircare.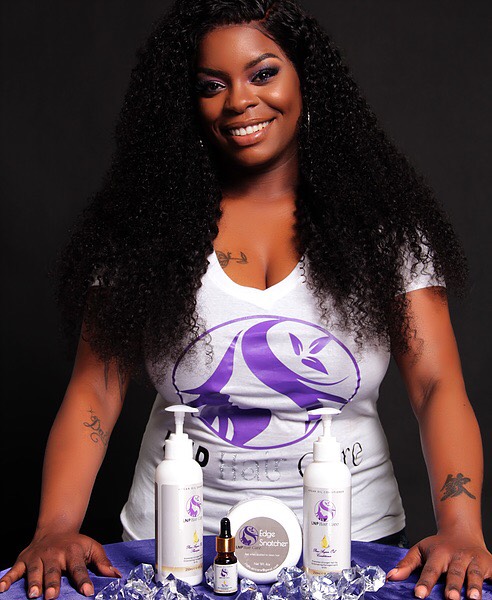 What do you see when you look in the mirror?
I see a confident black woman who have overcame so many obstacles.
What do you do for a living?
I'm a Salon Owner/Hairstylist LNP Haircare.
How do you think self-love plays a role in success?
First stay true to your guided light and know who you are, then everything else will follow through.
How do you think we, as women, can work together to lift each other?
First extend peace and love. Let your sisters know that their not alone and being a second-mile servant.
Have you had any adversities that you've had to overcome in order to achieve success?
The adversities that I've had to overcome was learning to let people go. Also, I had to step out of my comfort zone, I was never really an outgoing are outspoken type of person. Until I realized I would never get a chance to reach my true potential unless I start opening my mouth. Meeting new people opened so many doors for me to be able to excel in this beauty industry.
What has been your greatest accomplishment to date?
My son which is one of the brightest kids I know. Setting goals for myself and accomplishing them, with the help of my family and friends/team members. Also being able to open my very own Salon which has been a dream of mine ever since I was a kid. Before I leave this earth, I just want to educate the masses and leave a positive impact on others live.
What inspires you to keep growing?
God gave me a vision and I have no other choice but to see it through.