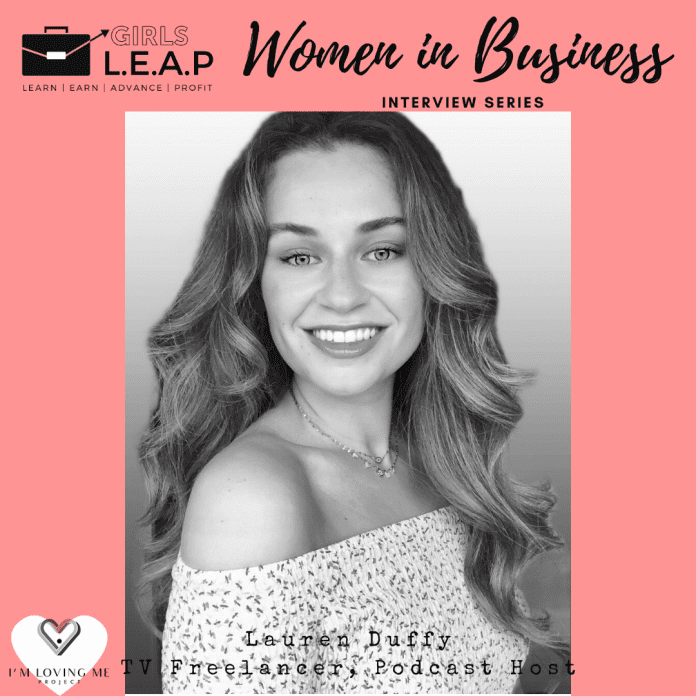 The spirit of entrepreneurship and drive runs threw her veins! Lauren Duffy is all about hard work and determination. Therefore, I'm Loving Me Project learned just how she built her England base business.
"I am a freelance broadcaster, media professional, aspiring TV presenter, and 2019 University of Chester graduate from Liverpool, Merseyside in the United Kingdom. I developed my craft in producing and presenting working alongside some of the UK's top TV broadcasters including the BBC, STV, and ITV. I also developed my strengths at local TV and radio stations in my home city of Liverpool outside of my degree.
I am an advocate for hidden learning disabilities Dyslexia, Dyspraxia, and Dyscalculia which I hope to positively represent in the media as my career grows. Even though I've faced a lot of adversities in my life, it has made me even more determined to succeed in my career and inspire others that you can overcome anything in life if you work hard enough and believe in your capabilities. In the future, I hope to become a successful TV presenter specialising in live magazine-style programmes and presentations covering real issues that affect young people as a positive representation of diversity on screen."
Q: Tell us about your business.
A: "Since graduating from University in November 2019, I have been creating my own independent media projects whilst trying to break into the television industry full time in the UK. Especially during lockdown, there is even more uncertainty in this already challenging industry; I knew during lockdown I needed to keep creating new content to make myself stand out even more when the job market eventually opens again in TV. My latest podcast series 'The Creative Curse' explores the different challenges of working and breaking into various creative industries every episode, that non-creatives would never consider. I've also taken this time in lockdown to raise awareness for hidden learning disabilities Dyslexia, Dyspraxia, and Dyscalculia on my YouTube channel. I have all three of these specific learning conditions and I have been very open in saying that the vast majority of my educational experiences were extremely traumatic for me; which is sadly often the case for many students around the World with hidden learning disabilities.
Even as a young child in primary school (elementary school in America) I was told that I would amount to nothing. Even though I am still at the very early stages of my career in broadcasting, I have certainly proved all those disbelievers wrong, I excelled at my degree becoming an award-winning and honours student at the University of Chester, as well as working alongside nearly all of the top broadcasters in the UK. Already the videos I have produced have inspired hundreds of young people and their parents with the same conditions as me, which has made me so proud to be an advocate to so many. I have positively not only raised awareness but also contributed to changing our perception of hidden learning disabilities, we should celebrate a unique way of learning and see these conditions as gifts."
Q: Why did you decide to take the LEAP to become an entrepreneur?
A: "At the start of your career in broadcasting and the media, you have to sell yourself by independently showcasing what you can do, what makes you stand out in this competitive and cut-throat industry. I am a highly motivated, determined, and focused young lady; I knew even at the start of my studies I needed to gain as much experience as I could to develop my craft. I believe that talent by itself will only get you so far, you need to be consistently hardworking and dedicated, always be one step ahead of everyone else to get your next great opportunity. What I have massively learnt is whilst you are putting yourself out there for new opportunities; in the meantime, you have to create your own to continue growing and evolving in what you do, which to me is real entrepreneurial spirit."
Q: What's the best part about being your own boss? The worst?
A: "The best part for me is being able to plan your working schedule to what best suits me and being able to adapt to how I work most effectively. The only downside so far I've found is most of the work has mainly been from home (which undoubtedly is very flexible). I am a very sociable person so I do find it hard sometimes not to have consistent interaction with people as part of a team. With the Covid-19 pandemic which has forced the majority of people to work from home, which from my work before to this it has positively made it easier for me to adapt to working during lockdown."
Q: What have been some of your challenges and successes in business?
A: "Some of my challenges in business have been breaking into full-time work within broadcasting and the media after graduating from University. Even though I have a wealth of experience and talent, the lack of opportunities for emerging talent for me to achieve my big break in the industry. I have accepted there is a lot of rejection and uncertainty until I've "made it" but I no doubt that I will achieve the career of my dreams when the time is right for me. From all that I have achieved so far in my career reading news bulletins, interviewing some of the biggest stars in the country, presenting and producing a range of different content for TV/online I know I am capable of so much more as my career goes on. I am so excited and determined for my future post Covid-19 to see where I will be in a few year's time."
Q: What do you love about working in your city?
A: I love the excitement of working in cities, you can feel the ambition and career determination around you it makes you feel so inspired. I can see myself working in either Glasgow or New York or even both in the future. Two of my favourite cities, I love the atmosphere when I'm there.
Q: What are 3 skills every entrepreneur should have?
A: "In my opinion 3 skills every entrepreneur should have is ambition, something I believe comes naturally to some people having the drive to always keep achieving your set goals for the future. Tenacity, being persistent and never giving up until you've got the business results you want. Finally, the most important skill in my eyes, Resilience! It's another trait that I believe only certain people have from bouncing back quickly from adversities, setbacks, and traumas. Indeed, the experiences we face in life make us stronger for the future, people with resilience utilize hardships they face and positively recover even stronger than before."
Watch Lauren Duffy videos here: https://www.youtube.com/watch?v=YR940I_vfJ8 , https://www.youtube.com/watch?v=nVX_VwSwzik , https://www.youtube.com/watch?v=bN-_1pNxiAo and check out The Creative Curse podcast