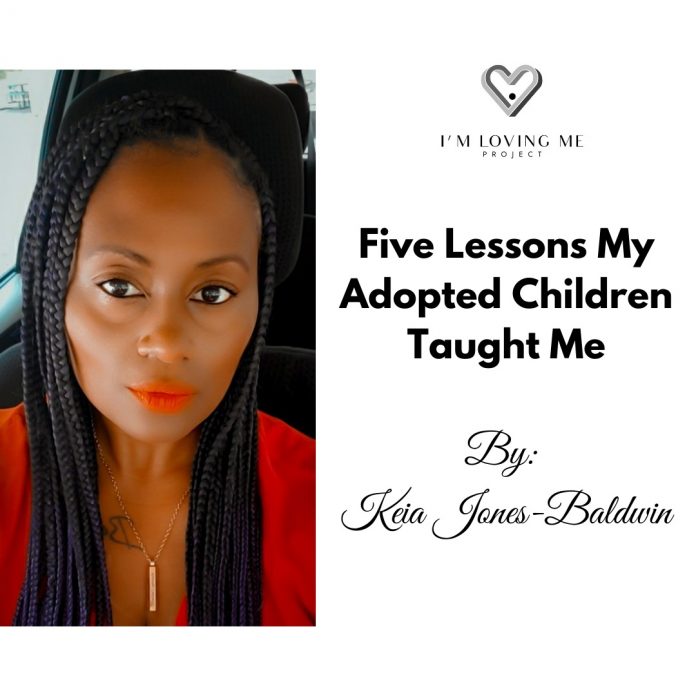 As of June 2020, the U.S.Department of Health and Human Services, Administration for Children and Families, estimates more than 400,000 children in foster care. In many households, adoption is still taboo. Many fear that as adoptive parents, they will have to deal with the trauma a child might bring, transition issues, dealing with their biological parents, and the fear of creating an attachment to someone that is not biologically yours.
As for Keia Jones-Baldwin, she put fear aside and followed God's calling, and with her husband and biological daughter became a foster parent, and later adopted three children. The I'm Loving Me Project sat down with her and listened to her story, and the lessons she has learned doing one of the most selfless acts a human can do for a child they do not know yet, but who needs love and protection.
"When I started my journey, I was broken, depressed, and felt alone. I believed miscarriages only happened to me.
I cried out to God to save me from myself! To save me from my bitterness, my thoughts of worthlessness, my feelings of emptiness, and despair.
When I was able to stay still, He laid on my heart to become a foster parent. I didn't particularly know why, but I was obedient. And in your own obedience, sometimes you have to walk alone, and I was prepared to do so.
I didn't want to adopt, never thought I would give a child the same love I gave my biological daughter. I also never thought it would be an option financially. So I was going to foster as God told me to.
When you think of a child in foster care, the first thing shouldn't be about race. It should be about concern to help a child in need regardless of race, age, gender, or circumstances. They are not an item on a menu. To me, God placed the perfect children in our home, no matter the color of their skin. As I moved slowly into adoption from fostering, I learned several lessons. Here are the five lessons my adopted children taught me:
The first lesson I learned from my children was patience. As a foster to adopt-mother, you have to be extremely patient with the process and with the child. We can't expect them to be grateful as if we have "saved them" from something. We have to give them an opportunity to become acclimated to their new environment. I learned not to have unrealistic expectations that the child(ren) should call me "mom" or be ready to hold hands and skip off into the sunset. They have families that they are grieving the loss of, and we have to be sympathetic to that.
The second lesson I learned from my children was to love beyond biology. As stated earlier, I was unsure that I'd be able to provide unconditional love without being biased or partial to my biological daughter. That would have torn me up inside. However, my adopted children taught me that love is a feeling not attached to biology. I found out that I'm able to love all my children unconditionally.
The third lesson my children taught me was grace. I've learned not to judge others and extend grace just as God does for us. We must show grace to the birth families. Each of my adopted children is connected with their birth families, and I'm so glad that we can have these positive relationships for the children's sake.
The fourth lesson is compassion. Having compassion for all people regardless of their backstory, how they look, how they live, where they come from.
The fifth lesson my children taught me was to be brave. We can't live our lives to please others. We can't be afraid to rock the boat for something we believe in. We can't be scared to put ourselves out there for what's right. To stand up and give a voice to the voiceless. Hatred and racism have no place in our society. It has been very hard to deal with that while teaching my children that people are, at the core, good, despite the hate they see daily. However, we will keep breaking barriers, bridging gaps, and changing the narrative of how people view transracially adoptive families!"
Keia Jones-Baldwin is a Licensed Clinical Therapist and Life Coach. She has been married for ten years to her wonderful husband and law enforcement officer, Richardro Baldwin. Together they have four children. One beautiful biological daughter and three exceptional children: two sons and one daughter by way of adoption. They have been a foster family for six years and advocate for children and families in the foster care and adoption systems. She is the founder of Raising Cultures, LLC, where she has taken the task of educating and changing the narrative about adoption and building bridges to encourage the acceptance of transracial families across all spectrums. Her life passion is to help eradicate discrimination, prejudices, stereotypes, and racism.
You can reach out to her by visiting her website, following her on Instagram or Facebook, view their YouTube videos, and listen to her podcast.